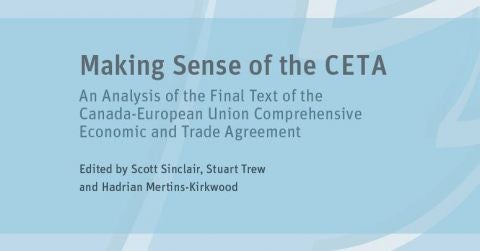 A new study says Canadians stand to lose far more than they gain from a proposed trade deal with the European Union.  
Long kept under wraps, the text of the Comprehensive Economic and Trade Agreement (CETA) was recently leaked. Analysis by the Canadian Centre for Policy Alternatives shows the trade and investment deal works for large multinational corporations - not for people, or the planet. 
The study, Making Sense of CETA, finds the deal will: 
Bypass the temporary foreign worker program, allowing

EU

corporations to bring certain types of workers into Canada, without the checks and balances of having to prove a shortage of Canadian workers with the needed skills or knowledge
Limit the power of provincial and municipal governments to use their purchasing decisions to create local jobs, protect the environment and support local economies
Enshrine a new system of corporate rights, allowing multinationals to sue governments for their policy or legislative decisions - endangering current and future public services and locking in privatization
Drive up health care costs by delaying the availability of lower-cost generic drugs

Sign the Trade Justice Network's call for transparency and a full debate on CETA.
"No wonder Stephen Harper's been keeping this deal under such close guard. It's handing over the keys to our public services and our legislatures and city halls. It's not too late to scrap this damaging deal," says CUPE National President Paul Moist 
A groundswell of European opposition threatens to derail the deal. Elected representatives in several countries are demanding the removal of CETA's controversial Investor-State Dispute Settlement (ISDS) rules, which give corporations sweeping new powers to challenge domestic decision-making. Legislators are calling on the EU not to finalize any deal. 
The wave of opposition disrupts a carefully-staged photo-op for Prime Minister Stephen Harper and EU officials, planned for Friday, Sept. 26 on Parliament Hill. It's the third time Canadian and European officials have held an event to try and convince the public that CETA is a done deal. 

Demonstrators will take to the streets on the same day in Ottawa, London and Brussels to call for transparency and democracy. The Ottawa protest is being organized by a coalition of marine transportation workers that includes CUPE dockworkers in Quebec. 
"This ceremony is a charade. Prime Minister Harper wants everyone to pack up and go home. But the reality is that CETA is in jeopardy," says Moist. "It's not a final document that's ready to sign - it's being taken apart and challenged by elected representatives in Austria and Germany." 
Progressive legislators have taken a strong stand against CETA's most damaging provisions. Their challenges take aim at the ISDS rules, and could unravel the entire deal. CETA will have to be ratified by 28 governments in Europe, and translated into multiple languages - a process that could take another two years. 
"Canadians can only wish we had the same level of transparency and debate here in our Parliament. CETA's corporate rights rules are anti-democratic. We demand an open and democratic debate on CETA before negotiations are finished. It's the only way to ensure Canada signs a deal that truly is about trade - not about special corporate rights," says Moist.