Never in the history of Quebec or all of Canada have we seen such a massive demonstration in defence of Radio-Canada/CBC. At the same time, never has the fear of losing our public broadcaster been shared by so many of this country's citizens.
Aware of the urgent need for action, more than 25,000 people across Quebec and in Moncton responded to a fellow citizen's call and took part in mass gatherings against the dismantling of Radio-Canada and for maintaining its services.
Nicolas Bédard, whose idea it was to organize the marches, closed the event in Montréal by calling on participants to continue their action: "This historic demonstration must not be an empty exercise. Our voices have surely been heard. We want to keep our public broadcaster! And our involvement needs to continue. More actions are being planned. And we need to make the future of our public broadcaster an issue in the 2015 elections."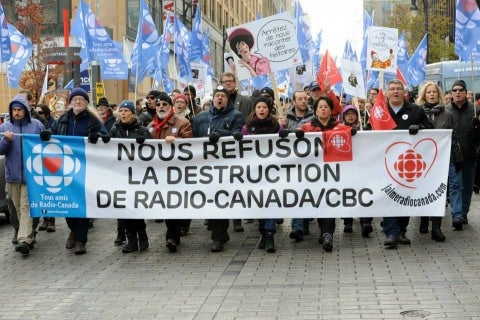 Amis de Radio-Canada and J'aime Radio-Canada, the two main campaigns to save Radio-Canada, also responded to Nicolas Bédard's call and supported his initiative.
View more photos on Facebook
Political spokespersons for both campaigns applauded this effort on the part of one person and reminded the public that Radio-Canada belongs to all Canadians and serves as a cultural beacon for Francophones from coast to coast. Radio-Canada requires increased, stable and predictable financing to fulfil its mandate. First and foremost, however, Radio-Canada needs a new government in Ottawa, a government that believes in the singular mission of our public broadcaster.
Gatherings for Radio-Canada were held simultaneously in Montréal, Moncton, Quebec City, Gaspé, Matane, Rimouski, Saguenay, Sept-Îles, Sherbrooke and Trois-Rivières.