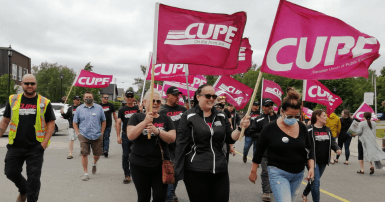 After a marathon bargaining session over the course of several days, municipal workers in Grand Falls-Windsor, Newfoundland, represented by CUPE 1349, reached a tentative agreement with their employer today. The agreement puts an end to a 14-week long lockout.
Details of the contract will not be made available until it has been presented to CUPE 1349 members and they have ratified the agreement. The union's bargaining committee will recommend that the membership accept the tentative collective agreement and a ratification vote will take place in the coming days.
CUPE national representative Ed White says, "This has been a difficult process for all involved, but we are satisfied that the changes to the agreement will serve our members, the town, and residents well. After the agreement is ratified, we'll work with the employer to see the 'return to work' agreement executed, as well as the resumption of public services provided by our members."
"We want to express our appreciation to the community for supporting us during this difficult process. Words cannot express how much your support has meant to us," says Tammie Greening, president of CUPE 1349.
"I'd also like to thank our bargaining committee for all their work in reaching a deal," adds Greening. "We want to thank all the other unions who came out to support us, and our mobilization committee and members for having our back. It's their solidarity and determination that carried us through the past few months."
CUPE NL President Sherry Hillier says, "The members of Local 1349 did an outstanding job supporting each other as they tried to end the lockout. They really are an amazing group of trade unionists and I was proud to join them on the line."