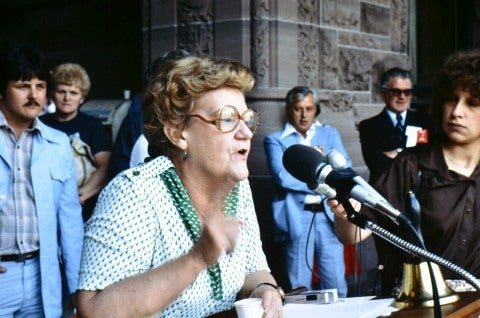 "The federal and provincial governments have enacted no fewer than 17 pieces of legislation since our 1981 convention that are aimed at crippling public sector unions and suspending their rights. The task we have before us is no less than the preservation of a decent, caring, civilized society." …from Hartman's retirement speech, 1983.
As a clerk-typist for the township of North York in the mid-fifties, Grace Hartman was outraged over workplace discrimination against women. It sparked an interest in unions that led to a 30-year career as a labour activist. She spent 15 of those years as national secretary-treasurer and then national president of Canada's largest union.
"Because of her, thousands of working women began to believe they could make a difference," said CUPE National President Judy Darcy when Grace Hartman died in December 1994 at the age of 75.
Then CLC president Bob White said that before Hartman, public-sector unions were not as active – or growing as quickly – as other unions in the Canadian labour movement. Hartman's 45-day jail sentence in 1981, for defying an Ontario Supreme Court back-to-work order "was very significant and courageous and a major decision by a large public sector union (leader) to really be a part of the labour movement," said White.
During the Ontario hospital strike for better pay and bargaining rights, Hartman said she would go to jail if she had to because "if we lie down at this point, they will exploit us in ways that we haven't even thought about." She also led the fight against federal government wage controls and freezes in the 1970s.
Over the years, Harman received many honours. They included the Governor General's Persons Award in 1985, the 1986 YWCA Women of Distinction Award, honourary Doctor of Laws degrees from York and Queen's universities and induction into the Canadian Labour Hall of Fame.
An activist with the Voice of Women peace group, Hartman is remembered for her grit, courage and unwavering quest for peace and equality.
"Grace's greatest achievements, without a doubt, are the trails she blazed for women," said Darcy, "not with rhetoric or fiery speeches, but with quiet determination and firm resolve. She fought for things like pay equity and affirmative action literally decades before they became mainstream."
To learn more about Grace Hartman and the pivotal role she played within CUPE and the Canadian labour movement, read Grace Hartman, A Woman for her Time by Susan Crean, published by New Star Books, Vancouver.