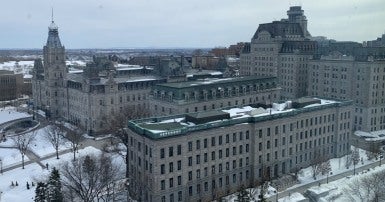 Three FTQ affiliates representing school support workers are denouncing the slow public sector negotiations in the various sectorial tables. In their view, bargaining is moving at a snail's pace because the employers don't have the mandates they need from the government to resolve the cases before them.
CUPE, the union representing professional and office employees (SEPB-Québec) and the union representing service employees, local 800 (UES-800) all believe the government is costing them time and energy by having them attempt to negotiate clauses that their employer counterparts do not have a right to negotiate.
"What's the use of meeting to try and find solutions to the numerous problems in the school sector if the employer's negotiators aren't authorized to deal with all of the issues. There's only so long you can spend looking at people in the whites of their eyes across the table without any headway being made during negotiations,"deplores Richard Delisle of CUPE-CPSS (Conseil provincial du soutien scolaire).
Not meeting commitments
Premier François Legault and Treasury Board President Sonia Lebel had promised rapid progress during talks and said they want to resolve this in June. There is no getting around the fact that what is happening is very different from what is being said to the media.
"If this is a bargaining tactic, it's in no way constructive. Mr. Legault, if you really want public sector negotiations to be resolved quickly, give your negotiators clear mandates. We're wasting valuable time here. We want to make progress for the good of our members and especially for the children," said Jean-François Labonté, President of the Conseil national du soutien scolaire (CNSS-SEPB).
Since the employer's demands were submitted in December 2022, negotiators affiliated with the FTQ have taken part in close to twenty bargaining sessions with government representatives, which have not produced any significant progress.
The schools' missions have been forgotten
"Our schools provide social stability and stimulate long-term economic growth. The government seems to have forgotten the essential missions of these institutions. We must do all we can to improve the school system by maintaining and attracting the labour needed for it to operate effectively," pointed out Christopher Williamson of UES Local 800.