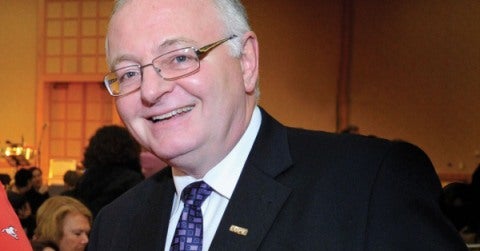 Paul Moist | National President 
Solidarity is the foundation of the labour movement and of strong, healthy communities. I have seen firsthand how deeply CUPE members across the country are committed to standing with others, at home and beyond our borders. Last year at our convention, CUPE recommitted to our international solidarity work. With the urgent climate crisis threatening the planet, the global economy dragging incomes down everywhere, and big corporations pushing for unbalanced trade deals, the need for international solidarity is critical.
The good news is, international solidarity works. We saw this a few years ago when CUPE participated in a cross-border coalition that succeeded in amending Canada's flawed trade deal with Columbia. Despite Columbia's abysmal record on human rights, the deal had no provisions to protect workers or civilians. Instead, it included new land grabs and powerful new rights for Canadian mining companies, without any accompanying responsibilities. Recognizing our duty to stand with Columbian workers and communities, CUPE joined with trade unions and social movements in both countries to challenge the agreement. This coalition forced the governments to include a human rights assessment in the deal, a necessary mechanism to hold corporations accountable.
Today, we are working with partners in Europe to stop the disastrous Comprehensive Economic Trade Agreement (CETA) with the European Union. This trade deal would give corporations the power to sue governments, threaten municipal services and the rights of municipal governments to make procurement decisions based on public policy, and put Canadian and European jobs at risk. The Harper government is eager to sign the deal, but our European labour partners have succeeded in getting their governments to take a second look. The result? Today CETA is in jeopardy. We still have work to do, but the more Canadians and Europeans hear about the deal, the more the opposition grows.
Corporations keep pushing for more power - and our governments keep handing it over. We must fight back. Over the coming months and years CUPE will expand our international solidarity work with our labour partners and social movements from around the world. Together, we can build a better world.

Paul on Twitter: @CUPENatPres