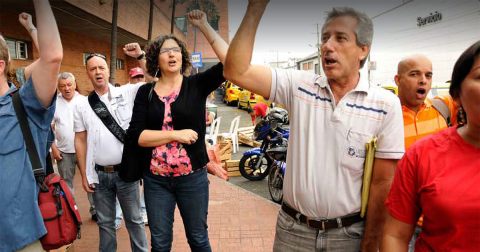 Philippines
The Alliance of Concerned Teachers (ACT) – Philippines celebrated their 30th anniversary in September 2012. Coinciding with their National Congress, the celebration included a Tribute to Teachers and a mobilization to protest against President Aquino's policies on education, widely criticized for being antiteacher and anti-people.
ACT was successful with its 2012 Sign-up with ACT campaign to form unions among public school teachers. The ACT-NCR Union was officially registered and recognized as the sole bargaining unit in the National Capital Region (NCR), covering approximately 26,000 members. Trade union activists organize and mobilize under dangerous conditions in the Philippines today. Attacks against organizers and leaders from CUPE partner organizations ACT and COURAGE continue with impunity under President Aquino's rule.
Six trade union activists have been killed since the current government came to power in 2010. In December 2012, 28 people were arbitrarily arrested on trumped-up criminal charges, including ACT national leaders Mae Fe Ancheta and Bing Dajao, and ACT organizer Reneboy Abiva. Long-time organizers of the Confederation for Unity, Recognition and Advancement of Government Employees (COURAGE), Randy Vegas and Raul Camposano, were also abducted and detained in that same month. The timing of the COURAGE arrests is of particular concern because they came in the midst of the campaign and protests by the Metropolitan Manila Development Authority (MMDA) workers, where both Vegas and Camposano were assigned as organizers. The MMDA workers, mostly street sweepers and traffic and street maintenance staff were demonstrating for their long overdue benefits.
COURAGE has been relentless and uncompromising in advancing the rights and welfare of the employees and in the pursuit of justice for the victims, including a campaign calling for immediate and unconditional release of Vegas and Camposano who have been detained more than four months. In 2010, CUPE members met with Carlo "Caloy" Rodriguez, the COURAGE Southern Tagalog Coordinator and President of the Calamba Water District (NLMWATER), who was later killed for his union activities and opposition to water privatization.
Burma
The changes in Burma over the last two years have led to a transition away from a "military dictatorship" toward a more democratic system, including the release of political prisoners, a more open media and increased freedom of speech. The power in the Parliament is still, however, in the hands of the military and former generals.
Now that Burma is considered to be on the "road to democracy," international sanctions have been lifted and there has been a huge influx of foreign direct investments, especially in the extractive sectors (oil, gas, mining). Humanitarian and development organizations are also setting operations inside the country. CUPE partner organizations, supported by VSO, an international development organization, now have opportunities for a whole new range of interventions as many can now operate to a certain extent inside Burma.
Some partners have set up offices or have proxy organizations under which activities can take place while other larger, multi-ethnic organizations are considering formally establishing a presence inside the country. Most of the smaller, youth and community-based groups will not follow this direction and are intending to remain within their respective ethnic communities.
The situation for civil society may be improving gradually in the larger urban areas, but in more rural, remote or ethnic areas these changes have yet to be felt. Small steps toward a
more open and vocal civil society are possible but the human and trade union rights situation remains volatile. Important issues of focus for our partner organizations include the
ongoing human and land rights violations, migration and refugee issues, and engagement in the political space and peace-building opportunities within local government.
For our partner organizations on the Thai-Burma border, the increased freedom to travel will give them the long-sought opportunity to directly engage and work with people deep
inside the country.
Cuba
CoDevelopment Canada is coordinating a shipment of office supplies and equipment to CUPE's partners at the Havana local of the National Union of Public Administration Workers
(SNTAP).
The items, which include such diverse materials as printers, highlighters, staples, computers, paper, baseball equipment and tires, will supply the local's training classrooms throughout the municipality and help the union run its operations with greater efficiency. 
The shipment has been years in the making, and coordinating it required obtaining Cuban government permissions, securing a mini-storage space, and researching and purchasing the best value items. For the transportation, planned in May this year, CoDev has enlisted the help of the Vancouver Rotary Club, whose experience in shipping goods overseas has been invaluable.
Nicaragua – MEC
Sandra Ramos, founder and director of the "Maria Elena Cuadra" Movement for Working and Unemployed Women (MEC) in Nicaragua, visited the CUPE national office in early
2012 to discuss her organization's current work. Through the support MEC receives from CUPE, ​CoDevelopment Canada and other groups, it is able to continue supporting workers in the 'maquilas', or free trade manufacturing zones, in Nicaragua.
MEC's Workers Mobile Law Firm last year assisted over 2,000 individuals struggling with labour issues, family violence and child care support. These mobile legal clinics provide women working in maquila factories access to legal advice that would otherwise not be within their financial means.
In addition, the lawyers accompany women to file complaints when needed, empowering them to defend their own rights against exploitation by employers, owners and the government. Many of the cases they took on were collective cases of companies violating the rights of a whole group of workers.
MEC plans to continue the work of their Mediation Centre, a centre that specializes in mediation, negotiation and alternative conflict resolution. The Centre is run by and for maquila workers, and is a continuation and expansion of the services offered by the Workers Mobile Law Firm. Its mediation and arbitration services, available since April 2006, were certified by the Nicaraguan Supreme Court.
MEC's Sixteenth National Forum for Maquila Workers will take place in March 2014. More than 1,200 women workers are expected to participate. Colombia With at least 20 trade unionists assassinated in 2012, Colombia continues to be the most dangerous place in the world to be a trade unionist.
CUPE's partnership with the Colombian human rights organization NOMADESC – the Association for Social Research and Action – is building connections and solidarity with Colombian workers and helping to ensure their safety. It also provides us with first-hand information and evidence that exposes the ongoing human rights violations and the link to increased trade and foreign investment in the country.
NOMADESC continues to provide training and support for human rights advocates as they fight for the rights of Indigenous and Afro-Colombian communities and trade unions in the southwestern region of Colombia. It helps communities by accompanying their members as they make their way through the legal system to defend their rights. Most essentially, its research into specific cases of human rights violations and its work with trade unions, individuals and communities provide the strength many vulnerable workers need in the struggle for their rights.