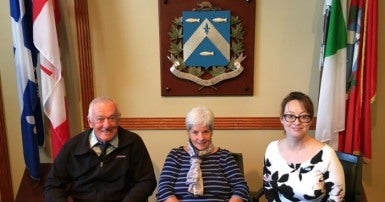 Trois-Rivières school crossing guards have signed their first collective agreement since they joined CUPE in 2015. The agreement includes wage increases and salary remediation measures totalling 3 per cent per year for the next five years.
"We are proud of our first CUPE contract. We are very satisfied with the service provided by the union, the negotiations with the employer, and the outcome–namely the ratification of the tentative agreement by 93 per cent of our members two weeks ago," said Suzanne Pelletier, president of CUPE 5272.
In addition to the wage increase, there are significant gains in leave provisions, including paid leave while schools are closed for the Christmas break or other closures. Similarly, the parties agreed on floating leave days, sick leave and the right to unpaid leave.
"We worked hard to bring the city's crossing guards to a level similar to that of other comparable CUPE workers in Quebec," said Nina Laflamme, union representative.
Finally, the parties established employment security clauses and improved employee transfer clauses, and the employer committed to including the union in the next pay equity maintenance.
It should be noted that the Trois-Rivières crossing guards, who were previously affiliated with the Fédération indépendante des syndicats autonomes (FISA), opted for CUPE representation in the summer of 2015.