Sonia Marcoux | CUPE Communications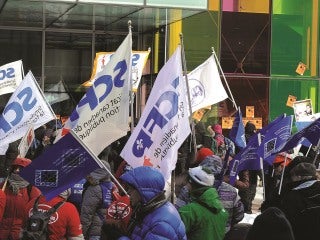 Since his election in April 2014, Philippe Couillard's liberal government has pushed economic austerity under the banner of "budgetary rigour" or "restoration of financial health". The objective? To achieve a balanced budget by 2015-2016, by reducing expenditures, whatever the cost.
Couillard and Martin Coiteux, Chair of the Treasury Board, have set their sights on all State expenditures, especially health and education (the two biggest items). Their plans include the merger of institutions and even the disappearance of entire agencies or school boards, even if the experts have established that these measures would result in little actual savings in the long run.
"Austerity isn't just job cuts; it's the elimination of services by and from the government. This government wants to cut public services to better pay their business leaders. The middle class finds itself neglected", said Lucie Levasseur, president of CUPE Quebec.
The list goes on of other sectors potentially affected by government austerity measures: funding for culture, financial support for the regions, the environment, childhood and homework assistance, resources for people with disabilities, etc.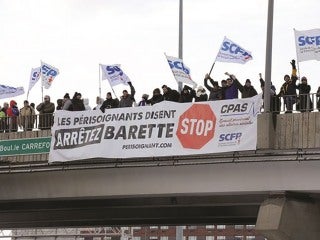 All this despite the fact that, in a report made public in March 2014, the International Monetary Fund (IMF) stated that the austerity measures imposed in a number of countries are hindering the economy and growth, in addition to increasing socio-economic inequity.
If the social and economic costs of austerity are fraught with consequences, why go down a road condemning Quebec to increa­sed poverty and fewer services?
But resistance is mobi­lizing: unions, anti-poverty groups, student associations and community organizations decided to form a collective to fight austerity. "The goal is to develop an action and common mobilisation plan," said Levasseur.
In late fall, 125,000 people marched in Quebec City and Montreal to say "no" to the Government's budget measures.
The role of unions is to protect the interests of our members and also of the public at large. CUPE is a proud participant in the "Refusons l'austérité" collective and its activities.