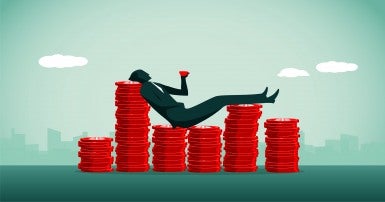 Executive compensation skyrockets during COVID
Some executives at Canadian companies publicly announced cuts to their salary during the pandemic in solidarity with front-line workers, but a closer look reveals that half of these executives saw their total pay increase in 2020 anyway. This is mostly because salaries make up a very small amount of an executive's total take-home pay, and some of Canada's biggest companies changed their rules so that they could boost bonuses during the pandemic. The Canadian Centre for Policy Alternatives (CCPA) examined public filings from 209 publicly traded companies to review the total compensation of over 1,000 named executive officers. The analysis finds that average executive compensation was up 17 per cent in 2020 compared to 2019, an average of $171,000 per top executive. There are two reasons for this increase - either the companies they worked at were lucky enough to profit from the pandemic, or their companies changed how bonuses were calculated to ensure bonuses were bigger despite poor pandemic performances. Meanwhile, some groups like the Chamber of Commerce and the Canadian Federation of Independent Business howl from the rooftops about 10 cent increases in the minimum wage!
New project links trade and climate action
What do international trade deals have to do with climate change? A lot, says a newly launched collaboration between four think tanks: the New York office of Rosa Luxemburg Stiftung, the CCPA, the Institute for Agriculture and Trade Policy, and the Institute for Policy Studies. For example, US lobby groups are trying to use NAFTA's successor, the CUSMA, to prevent Canada from implementing a new plastics management plan, claiming it violates our international trade obligations. The new project clearly shows how trade deals have been a barrier to better environmental policy around the world and explains what we need to change about trade deals so that we can expand public services and get serious about climate action.