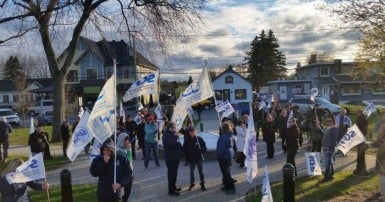 Tuesday evening, CUPE held a demonstration at the Coteau-du-Lac city council meeting. Several dozen people took part in the demonstration denouncing the potential illegal dismissal of a blue-collar employee.
The employee in question suffers from limitations arising from a medical problem. In such a case, the employer is required by law to assess the limitations and then accommodate the employee, to the extent that this can be done without undue hardship.
In this case, the mayor and the general manager of Coteau-du-Lac refused to consider any evaluation, accommodation or even a meeting on the issue with the union representatives.
The city council were planning to adopt a resolution on Tuesday confirming this refusal to cooperate. CUPE therefore responded by organizing a demonstration in support of its blue-collar member illegally deprived of his work.
"Our demand is simple: we are asking the municipality to act in accordance with the law. The situation is very clear: in the event of a health problem followed by a return to work with limitations, the employer is required to consider accommodations. Here, the father of a family is out of work because Coteau-du-Lac can't apply the basics of the labour laws," said Marie-Claude Lessard, CUPE union advisor.
"Why is a young family being left in such a precarious situation? If Mayor Guy Jasmin and the general manager continue to obstruct the process, they will waste a lot of the municipality's time and money. One way or another, they will be forced to comply with the law," said Ms. Lessard.
With more than 110,000 members in Quebec, CUPE represents about 70% of the province's municipal employees, or close to 32,000 members. CUPE is also present in the following sectors: health and social services, communications, education, universities, ground transport, energy, Quebec government corporations and public agencies, air transport, and the mixed sector.