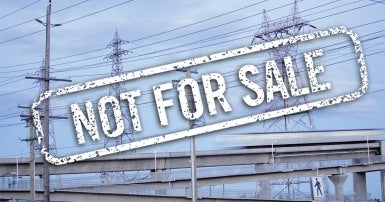 CUPE welcomes a parliamentary committee report that has just one recommendation: abolish the Canada Infrastructure Bank (CIB). CUPE is calling for the bank's fundamental transformation into a source of low-cost loans that help local governments build public infrastructure, instead of being driven by private for-profit investors.
In 2021, CUPE researchers presented to the committee studying the CIB. At the House of Commons Standing Committee on Transport, Infrastructure and Communities committee hearings, the message from across the political spectrum was clear. Privatization is risky, delays projects and drives up costs.
"From day one, CUPE has pushed the Liberal government to tear the CIB down to the studs and build a bank that works for communities, not corporations," said CUPE National President Mark Hancock. "The committee confirms what we've been saying all along: privatization costs more, delivers less, and harms the public services we all count on. It's time to build a fully public bank," said Hancock.
In 2016, the Liberal government broke an election promise to support municipalities with low-cost loans. Instead, they launched the CIB, which serves the interests of profit-seeking private investors. Since then, the CIB has performed poorly, and has little to show for its massive operating budget and private sector executive salaries.
"We've lost more than five years and millions of dollars on this failed privatization experiment," says CUPE National Secretary-Treasurer Candace Rennick. "Meanwhile, we're in a climate crisis and struggling to recover from the COVID-19 pandemic. Let's not waste a minute more. Let's build a different kind of bank, one that boosts the economy and supports good, green jobs," said Rennick.
A public bank would lend money at lower interest rates than the private sector, support projects that communities – not corporations – need, and would not come with a requirement to privatize through public-private partnerships (P3s) or other schemes.
A public bank would put public representatives in the driver's seat. Operations would be open and transparent, unlike the CIB which is shrouded in secrecy. By law, the CIB bars people who work for any level of government from sitting on its board.
The committee report cites CUPE's evidence extensively, including the story of the bank's failed attempt to force water privatization on the Ontario community of Mapleton, as well as the troubled Réseau express métropolitain light rail project in Montreal.
After five years of confusion and delay, it is clear the bank's privatization mandate is not workable, and the CIB must be dismantled or fundamentally changed. The report comes as the CIB faces a five-year review required by law.
Find all CUPE's Canada Infrastructure Bank campaign material at cupe.ca/not-for-sale