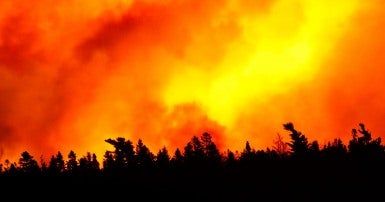 CUPE Quebec is saluting everyone who is going all out to extinguish the blazes that are overwhelming citizens living in the regions of Abitibi-Témiscamingue, Mauricie and the North Shore.
Of course, CUPE Quebec tips its hat to the firefighters and emergency services on duty along with all municipal employees and blue- and white-collar employees who are working relentlessly to fight fires or helping those ordered to evacuate the municipalities affected. However, it certainly does not want to overlook Hydro-Québec workers, who are continually on alert and the personnel dedicated to essential services who have to go outside despite poor air quality.
"CUPE has many members committed to putting out the fires and helping residents. Many of those who are actively involved at the scene are victims themselves, which makes their willingness to help all the more impressive," said Frédéric Brisson, General Secretary of CUPE.
"The dramatic situation we're witnessing today reminds us just how impactful climate change really is and that it's now affecting our lives. Governments can no longer sit on the sidelines. They have to act, and this also involves providing adequate support to cities and towns and to their staff so that our municipalities can adjust to the challenges yet to come," added Brisson.