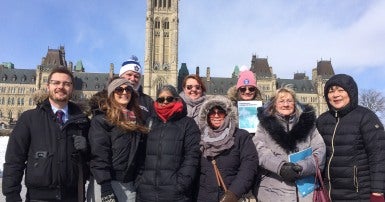 Today, more than 40 CUPE members from across the country met with Members of Parliament to support the creation of a national Pharmacare program and to discuss retirement security and pensions.
CUPE members, alongside 350 activists from the Canadian Labour Congress, participated in a lobby day in Ottawa.
The group met with over 192 parliamentarians throughout the day to support the creation of a Pharmacare program that provides coverage for all residents regardless of their income, age, or where they live. Any Pharmacare program must be patient-centred, integrated with our health system, and sustainable.
Union activists also took the opportunity to raise concerns about retirement security, including the consequences of bankruptcy on workers pensions when it comes to bankruptcy protection.
After seeing yet another big corporation walk away from its obligations to pensioners, CUPE members are calling for fairness for workers and pensioners when companies restructure or go bankrupt. We're calling for changes to bankruptcy laws to ensure workers and pensioners are first in line – not last—when it comes to companies paying creditors.
CUPE members also advocated for the creation of Canada-wide mandatory pension insurance that will rescue and protect stranded pension plans. Ontario already has pension insurance, and now it's time for federal action to help protect all pensioners across the country.