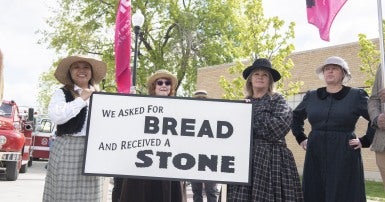 Prison Bars Cannot Confine Ideas! 

CUPE is proud to join with Manitoba's unions in celebrating the 100th anniversary of the Winnipeg General Strike. CUPE Manitoba sponsored a free public concert on Saturday, May 25th and joined the Solidarity Forever Parade, sponsored by UFCW Local 832.
The CUPE Manitoba concert featured artists Sierra Noble, James Keelaghan, David Rovics, Heather Bishop, Maria Dunn with Shannon Johnson, Red Moon Road, Nathan Rogers, and Joe Jencks.
"CUPE is proud to support local artists in our celebrations of the 1919 Winnipeg General Strike," said Gord Delbridge, President of CUPE Manitoba. "We are deeply committed to the community, and we are excited to see so many activists, artists, and musicians participating in our concert and parade float."
CUPE members were out in-force for the parade, which went from the former site of Vulcan Iron Works (where the General Strike officially began) to the grounds of the Manitoba Legislative Building. CUPE's parade float was a unique homage to the 1919 Strike and included a horse-drawn wagon with "Authorised by Authority of the Strike Committee" written on the side. CUPE members dressed in vintage 1919 clothing from Ragpickers Anti-Fashion Emporium, and were led by "The Flaming Trollies", a local music collective made up of activists that fuse their anti-oppression work with music.
CUPE also featured replica 1919 protest signs, carried proudly by CUPE Locals 204, 500, 2348, 5362, 744, and 1475 that included slogans found during the Winnipeg General Strike. Slogans included "Prison bars cannot confine ideas" and "We asked for bread and received a stone". The signs were produced by local artist Joshua Stanton.
CUPE 110 shored up the parade with over 100 members wearing black and carrying wreaths dedicated to Mike Sokolowski and Mike Szczerbanowicz, the two workers who were killed by authorities on Bloody Saturday.
"Paying homage to the struggles of workers in the past was an important part of our parade float," said Delbridge. "We walk in their footsteps every day in our commitment to building a better world, and I'm fiercely proud that CUPE is unafraid of fighting for our members and for a just society for all."
CUPE Manitoba and CUPE 204 are also both sponsors of upcoming performances of "Strike! The Musical" at Rainbow Stage.
Events continue to take place throughout the month of June, and included a concert featuring Bruce Cockburn and Ani DiFranco at Old Market Square on June 8th.
More information on 1919 Winnipeg General Strike events can be found at mfl.ca/1919