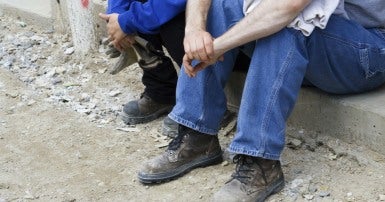 HALIFAX – The presidents of CUPE in New Brunswick, Nova Scotia, Prince Edward Island, and Newfoundland and Labrador are endorsing the federal NDP's plans to scrap Stephen Harper's unfair changes to Employment Insurance (EI).
CUPE NB President Danny Legere, CUPE NS President Danny Cavanagh, CUPE PEI President Lori MacKay and CUPE NL President Wayne Lucas have all given the NDP plan a big thumbs up, saying the Harper government changes were an attack on unemployed Canadians and seasonal workers in particular.

CUPE says the NDP plan will ensure Canadians who pay EI premiums will be able to get those benefits when they need them, and will go a long way to reversing the damage done by past Liberal and Conservative governments.
The CUPE presidents say the NDP plan will support regional economies and workers in seasonal industries by providing a maximum of five extra weeks of benefits in regions where unemployment is high and work is hard to come by. 
The union says it will also provide a fairer EI benefit for seasonal workers and other Canadians with uneven work hours by calculating all EI benefits on the best 12 weeks of pay, while training more Canadians to help them improve their skills and land better paying jobs by undoing Conservative cuts to labour market agreements.
CUPE is also applauding the NDP plan to work with labour and employers to establish an independent board to manage EI and set stable, predictable rates.