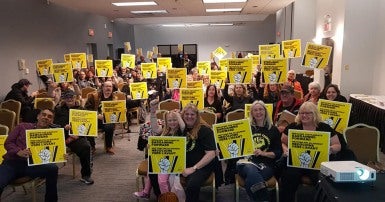 CUPE National took aim at the New Brunswick Conservative government's unprecedented violation of workers rights today, after it used a court order to pre-empt a strike by CUPE members at the province's nursing homes. The government sought and obtained the order "ex parte" – meaning CUPE didn't receive a notice of the hearing in order to present counterarguments, and in fact, only learned about the court order through the media.
"Is this how much respect Premier Higgs has for the hard-working people who take care of the province's most vulnerable?" asked CUPE National President Mark Hancock. "Premier Higgs, stop taking the back-door route to undermine labour rights, and give nursing home workers the fair deal they deserve."
The Government of New Brunswick obtained a ten-day court order suspending nursing home workers' right to strike on Sunday. More than 90 per cent of CUPE's 4,100 nursing home workers in New Brunswick voted in favour of a strike, rejecting an offer from the government that would have continued to keep them overworked and underpaid.
"If Premier Higgs believes our members' work is so essential, then why did he and his predecessor leave them without a contract for 28 months?" said CUPE National Secretary-Treasurer Charles Fleury. "Nursing home workers do physically and emotionally challenging work, and they deserve fair treatment and fair compensation in return."