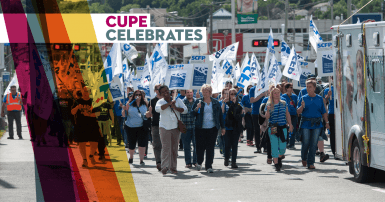 On Thursday, Québec's Administrative Labour Tribunal (ALT) handed down a major decision on the right to strike of health and social services workers. In its decision, administrative judge Pierre Flageole deemed section 111.10 of the Québec Labour Code "constitutionally inoperative" in a series of crucial circumstances. This section provides for the maintenance of services at numerous institutions across Québec in the event of a strike.
"This is a major victory for workers in the public system," stated Serge Morin, assistant director of CUPE Québec. "This decision is going to make the negotiation process fairer and more respectful of their freedom of association. Over the coming months, CUPE is going to propose viable, thoughtful solutions for the coexistence of the right to strike and people's right to care."
The decision comes soon after the Supreme Court ruling in Saskatchewan Federation of Labour v. Saskatchewan, or the "Saskatchewan decision."
In concrete terms, the decision establishes that the right of association is protected under the Canadian Constitution and includes the right to negotiate and to strike. It establishes further that section 111.10 determines essential services in an excessive manner [translation] "in that it provides minimum percentages per unit of care and class of services that are not necessarily adapted to the delivery of truly essential services and fails to provide for an independent third party to decide as to the relevance of the minimum percentages imposed."
The ALT is suspending the application of its decision for a period of 12 months to allow the National Assembly time to amend section 111.10.
The claimants in the dispute were CUPE-affiliated unions and the CSN. SQEES-298 (FTQ) and the FIQ were among the intervenors.
For the full text of the decision, please click the following link (in French only): Administrative Labour Tribunal Decision: