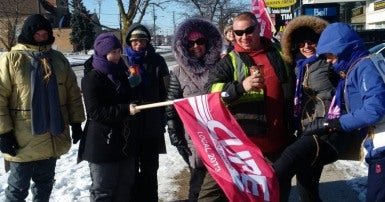 227 workers with the Canadian Hearing Society (CHS) will return to the jobs they love on Monday, May 15th, following today's ratification of the tentative settlement negotiated by their union earlier this week. The workers, represented by CUPE 2073, have been on a province-wide strike since March 6.
"I'm pleased to say that our members ratified the tentative settlement," said Stacey Connor, president of Local 2073. "I'm so proud of these workers for walking the line for 10 weeks for fairness, respect, and high quality services," said Connor, who is herself an employment services counsellor with the agency. "Because of their toughness, because they were so steadfast, we were ultimately able to secure a fair contract."
The key issue in dispute during the strike was sick leave, but the workers had also gone four years without wage increases. The contract allows for wage increases in each of five years and a modest pension improvement. Crucially, it also replaces the existing sick leave plan with a comparably good plan.
"We had no intention of being forced into a bottom-of-the-barrel sick leave plan that is not reflective of a workplace that's been unionized for 40 years," said Barbara Wilker‑Frey, CUPE National Representative. "We are pleased to say we prevailed on that point."
"Everyone is looking forward to getting back to serving the Deaf and Hard of Hearing community and to providing vital services," said Stacey Connor. "We are so grateful to the community for all the support shown us through the strike. They really sustained us with their understanding and support, and with their numerous picket line visits."
"We hope that CHS is as interested as we are in moving forward together to provide high quality services to the Deaf and Hard of Hearing community in a respectful workplace environment," added Wilker‑Frey. "We are there for that hard work, and we hope they are too."
CUPE Local 2073 represents workers in 24 CHS offices across Ontario. They serve the Deaf and Hard of Hearing community by working as counsellors, literacy instructors, audiologists, speech language pathologists, interpreters/interpreter trainers, clerical support, program coordinators, program assistants, and information technology specialists. 40% of the members of CUPE 2073 are Deaf, and 90% of them are women.