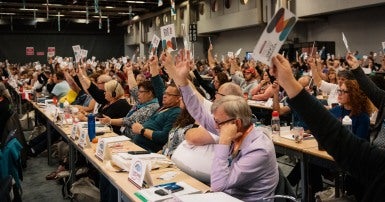 Following 5 days of spirited debate, discussions, and speeches the CUPE 2019 convention is now over.
Through adoption of resolutions and CUPE's strategic directions over 2200 delegates have mapped out a clear path for CUPE for the next two years. From fighting precarious work to promoting the expansion of public services, delegates left no stone unturned.
As delegates return home, they are ready to continue the struggle for justice in their workplace and their communities. Inspired by the words of invited speaker and leader of the NDP Jagmeet Singh: We are ready!