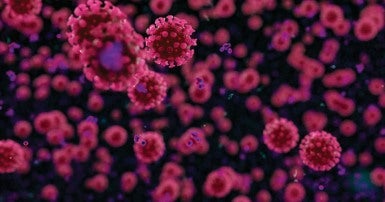 Marnie Thorp | CUPE Communications
As the days get shorter and we move into winter, we are also moving deeper into the second wave of the COVID pandemic. Of Canada's COVID 11,496 deaths, 75% have been in long-term care facilities. CUPE members who work in long-term care (LTC) across the country have carried an enormous burden during this time.
A recent Ontario study reported high levels of stress and burnout among CUPE LTC members. "We're so short-staffed, we already know that our residents are not looked after the way they need to be looked after," said one CUPE member, adding that this is nothing new. "Maybe they think that this is all because of COVID, but these are pre-existing problems of understaffing and underfunding. It's the way it is in long-term care."
Virginia Monton, President of CUPE 2719, works at Maples Personal Care Home in Winnipeg, which made news when CUPE members revealed a cover-up by the employer after a devastating outbreak in November. She agrees. "Life working in a long-term care home has been extra challenging these days. Before the pandemic, we were already struggling with the staff to resident ratio. Now, the shortage of staff has made it even worse. In a span of weeks, numerous staff have contracted the virus," Virginia said, herself among them. "To find replacements for staff that are on self-isolation has been difficult."
In spite of the challenges, CUPE members are doing their best. "I work with a great team where everyone is very supportive of one another," said Gurdeep Parhar, a dietary aide and member of the Hospital Employees' Union in BC. "When there was an outbreak at our centre, we worked really well together as a team to get through an incredibly tough situation."
The pandemic is a struggle, not just on the workers, but on the people they care for too—at work and at home. "It was hard because our residents needed us, so we were committed to being there. Even though my family was concerned for me," Gurdeep continued, "my 9-year-old daughter understood and would say to me 'Mom, you need to go, they need you.'"
Things were different in the Atlantic bubble. Tina Rideout, member of CUPE 488 in Corner Brook, NL, has worked in long-term care for 30 years. "During the first wave of the pandemic, I think we felt somewhat removed from the reality of what was happening in mainland Canada. COVID had yet to enter our province. We had the advantage of watching and learning from a distance while still being free from the virus," she said. But that has changed. "As our number of active cases increases in the Atlantic provinces, staff and residents obviously feel more threatened. Leaving the Atlantic bubble was the right thing at this time."
Sandy Wilson, from CUPE 2784 in Halifax, feels the same. "We were fortunate in Nova Scotia. But maybe we became complacent because of the bubble. The news was saying it was the safest place to live, people were coming home from out west. But now that we've made that mistake, I really believe people will behave and we'll get back to where we should be."
The winter ahead looks grim but there are some rays of hope. The Ontario government, after 24 years of pressure from CUPE and other unions, has finally committed to a minimum care standard of four hours of daily hands-on care per resident. In Quebec, the government launched an ambitious recruiting drive, putting close to 7,000 candidates through an accelerated training program for personal support workers.
But this piecemeal approach is not enough. Canada needs a comprehensive plan to fix long-term care. Long-term care should be an accessible, publicly funded and universal health care. The federal government must establish national standards of care, and dramatically increase the number of long-term care beds and staff to ensure access and quality of care.
You can help make that happen. Visit fixlongtermcare.ca and send a message to PM Justin Trudeau and tell him it is time to fix long-term care now, so that we never have to face another crisis like the one we have been facing for the past nine months.