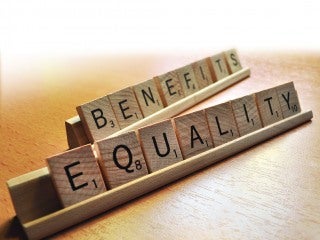 When they're properly designed and administered, benefits plans can smooth income disparity and prevent financial hardships.
Most but not all CUPE members have access to some type of benefit coverage through their collective agreements. Unfortunately, these plans are not all created equally. Many restrict access to those who work in full-time permanent positions and exclude those who are working in part-time or casual positions. Members in these precarious positions are more likely to be women, young or racialized, and they are also often the lowest wage earners.
Bargaining a benefits plan that is 100 per cent employer paid and covers all employees and their family creates equality. Benefits plans bring up lower wages by a higher percentage. For example if Member A earns $25,000 per year with $1,000 worth of employer paid benefits their compensation is increased four per cent, while Member B earning $50,000 a year with the same benefit gains two per cent in additional compensation.
Access to a pay direct drug card can also make access to prescription medication significantly easier for members earning lower wages. Shared premiums, co-pays and deductibles negatively affect low-wage earners, as a higher per cent of their wage must go toward paying the premium, co-pay or deductible.
CUPE continues to advocate for a national Pharmacare plan and for expanded coverage of public health care so all Canadians will benefit. But until we achieve equal access for everyone, we must gain better coverage through our workplace plans.