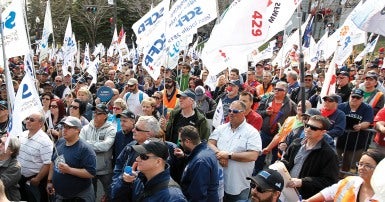 Ronald Boisrond | CUPE Communications
In September 2015, mainly at the request of the Union des municipalités du Québec (UQM) and the mayors of Quebec City and Montreal, the Liberal government signed an agreement with the province's municipalities.
This agreement, also known as the "fiscal pact", would allow municipalities to decree the working conditions of their employees, even though currently more than 95 per cent of collective agreements in the mu-nicipal sector are signed without a work stoppage.
The entire labour movement considers this fiscal pact to be unconstitutional.
CUPE Quebec, as well as the Quebec Federation of Labour (FTQ) were quick to respond.
They first denounced the bill at various press conferences. A website was also launched, egalegal.ca, offering members and citizens the opportunity to send an email to their Members of the National Assembly or to sign a petition.
A poster operation and extensive radio advertising were conducted across the province using themes related to the campaign Égal à égal, c'est fondamental [Negotiating as equals is fundamental].
CUPE Quebec also produced a collection of "The Untrustworthy" postcards with the image of municipal politicians who have had a checkered record on labour relations or run-ins with the law.
Last May, a major demonstration was held in Quebec City during the annual meeting of the UMQ.
This bill is based in large part on the manipulation of results compiled by the Statistical Institute of Quebec (ISQ) contending that municipal employees are better paid than provincial workers.
In May 2016, CUPE Quebec tabled an analysis in which it demonstrated that salaries in the municipal sector are similar to those in crown corporations, the federal administration and the unionized private sector. These facts were all deliberately ignored by the UMQ when quoting the ISQ study.
Given the evidence of the rights protected by the Canadian and Quebec Charters, the government abandoned the idea of allowing municipally elected officials to impose working conditions. Nevertheless, it tabled its bill in June and public hearings were held during the month of August. With this latest effort, it seems clear that the government is seeking to create an imbalance that will favour city officials during the negotiations of collective agreements. To the surprise of the unions, employees of public transport companies are also affected by this bill.
CUPE Quebec presented a brief in which it demonstrated that the bill is based on biased premises and numbers. It underlined that if adopted without major changes, the bill would pave the way to a long period of disputes in Quebec's municipal sphere.