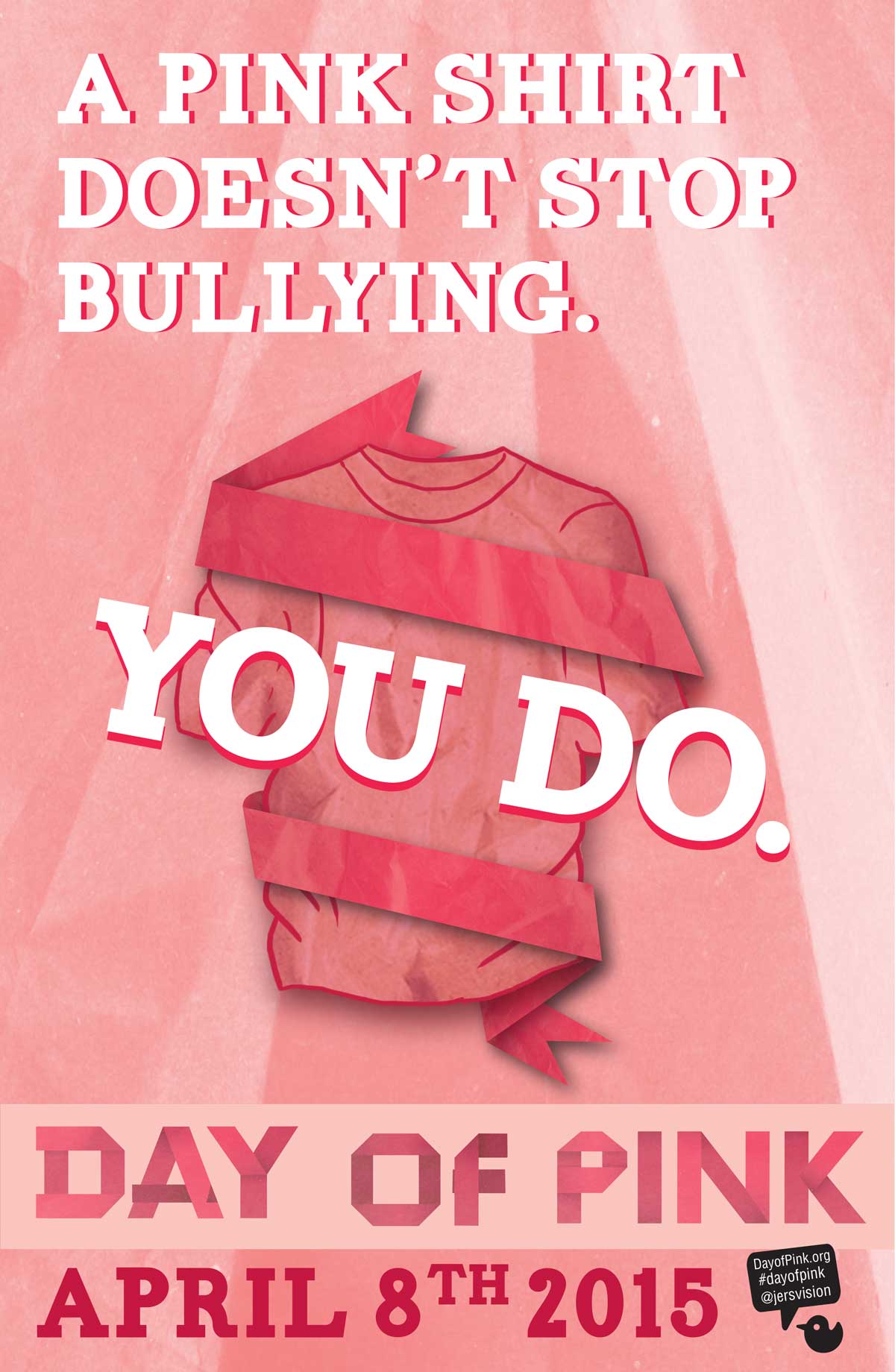 On the second Wednesday in April, we mark the International Day against Bullying, Discrimination, Homophobia and Transphobia. In communities across Canada and around the world people wear pink to call for an end to bullying in all its forms, especially bullying targeting members of the LGBTTI community (lesbian, gay, bisexual, transgender, transsexual, or intersex persons).
The day got its start in Nova Scotia in 2007 when two high school students saw a younger boy wearing a pink shirt being ridiculed and threatened at school. The two older students took action, encouraging all their classmates to wear pink to school. The result was a powerful show of solidarity. The idea caught on and now many schools and workplaces celebrate annual pink shirt days.
Bullying is a serious problem in our workplaces, our schools and our communities. This aggressive, persistent form of harassment hurts people of all ages. It is a misuse of power to make someone else feel small. For targets, the health fallout can be devastating, from depression and trauma to suicide, in the worst cases. The ripple effects extend to witnesses, friends, families, co-workers and entire organizations.
There are hopeful signs of change among our members and in our communities. Awareness of the problem is growing, as is demand for education and action to eliminate it. Some locals, like the B.C. Hospital Employees' Union, have conducted workplace bullying surveys among their members and developed anti-bullying campaigns. Gay-Straight Alliances in schools and campaigns like  "It Gets Better" provide support to bullied teens.
The labour movement has always been at the forefront of struggles for LGBTTI rights. Some of these struggles were profiled and discussed at the CUPE National Human Rights Conference in February 2015. These included historical gains at the bargaining table in advancing 'no discrimination' clauses, anti-harassment language, same-sex benefits and leave provisions for transitioning workers. The incorporation of gender identify and gender expression in several provincial human rights codes was also highlighted as one of the most significant human rights achievements in recent years.
On April 8, take a stand against bullying. Wear pink and encourage others to wear pink.
Here are some other things you and your local can do to help make everyone feel safe, welcome and respected in our workplaces.
Let's stand together to put a stop to bullying and harassment.
In solidarity and pride,
Paul Moist
National President
Charles Fleury
​National Secretary-Treasurer