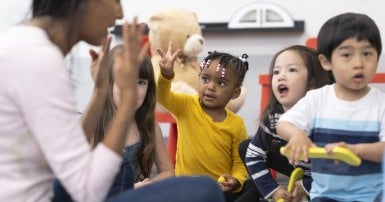 Women living on low incomes who live intersecting inequalities based on race, class, disability, education, and migration and immigration status have been disproportionately impacted by the COVID-19 pandemic.
When school and child care centres closed nine months ago, women were more often the ones to leave jobs or add more child and elder caregiving responsibilities into their day.
From 1967- 1970, the federal government of Canada put together the Royal Commission on the Status of Women. Women from across Canada sent messages to the Commission telling them about their needs and what stood in the way to a more equal life.
The Commission reported one of the top concerns facing women was the need for child care: "We have looked in great detail at the services which appear to be most urgently needed…daycare centres for full-time and short-term, or emergency care. Such community services received very high priority in submissions to the Commission. The request came from every part of Canada, from the Yukon to Newfoundland, and from small as well as large communities."
This was written 50 years ago - yet it could be mistaken for today's situation.
In 2018, the Canadian Centre for Policy Alternatives (CCPA) found that 44 percent of non-school aged children in Canada lived in a child care desert - where at least three children compete for a spot. In another study, the CCPA found the cost of child care is over $10,000 a year in 78 per cent of the cities they studied. The cost and the lack of space leaves parents in a difficult situation, some having to put their children in unlicensed and potentially harmful spaces.
December 7, 2020, marks the 50th anniversary of the tabling of the Royal Commission on the Status of Women in Parliament. Over two generations of women have been telling governments that they need federal support to help raise their children in high-quality, safe spaces. Liberal governments from 1984 on have been researching a universal child care program.
Quebec initiated Canada's first provincial affordable child care system in 1997, Alberta introduced $25 a day care until their government changed and cancelled the program in 2020. British Columbia set up 50 low fee child care prototype sites in 2018, and has promised to continue the program until at least March 2021. Newfoundland recently announced that they will start a $25/day child care program in January, with more details to come.
The current Federal government has promised in their recent throne speech and their fiscal update that an affordable child care program is coming.
Will it be the universal, affordable, and accessible program women in Canada need?
The most recent study released last week from the Centre for the Future of Work shows that governments will benefit from $17-$29 billion a year in additional revenue from women's return to full-time employment.
Women have been waiting 50 years, how much longer? 
Together we can make it happen. CUPE works alongside Child Care Now to support and advocate for a universal, affordable, accessible, non-profit child care system, learn more here.