On World Public Services Day, CUPE is calling for corporations to pay their fair share of taxes so we can all have strong public services.
It's a call that crosses borders, targeting multinationals that set up shop in tax havens to avoid paying their fair share.
Canadian corporations hid at least $199 billion in offshore tax havens last year, avoiding at least $2 billion in taxes that could have funded public services and infrastructure. Those are the official reported figures: the amounts actually held by unreported by Canadian corporations and wealthy individuals in tax havens are much higher.
"Stephen Harper says he's tough on crime, yet this heist is happening right under his nose," said CUPE National President Paul Moist. "The Conservatives have made it harder for the Canada Revenue Agency to track tax cheats, and instead are unfairly targeting their critics."
Well-funded public services and infrastructure are at the heart of our economic and social well-being. And we're one election away from changes that will strengthen our communities.
The New Democratic Party will roll back corporate tax cuts, generating revenue that can fund programs like $15-a-day child care. The NDP has also committed to increasing tax fairness in other ways, including closing regressive tax loopholes that benefit the wealthy.
The call for change is global, with Public Services International campaigning for tax justice across borders. "We all have to pay tax, so why don't multinationals," said PSI General Secretary Rosa Pavanelli.
The Global Alliance for Tax Justice and Canadians for Tax Fairness are leading the international call, with a week of action to push the issue to the top of the agenda.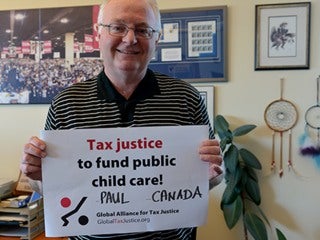 Ending poverty and inequality begins with public services, and as governments map out a 15-year plan to finance and deliver services in developing countries, tax fairness is essential. Everyone has the right to public services like health care, water, sanitation and education.
CUPE and PSI are advocating for public – not privatized – financing and delivery of vital services, and for development assistance to not be conditional on privatization. Ending tax havens and tax avoidance schemes will deliver much needed resources to fund public services.
June 23 is a global day for workers to celebrate and advocate for quality public services. World Public Services Day is part of Public Services International's Quality Public Services Now! campaign. In Canada, CUPE marks the day as Communities Day.
Corporations avoided $2 BILLION in taxes that could have funded public services/infrastructure http://t.co/J9pmVvKuGa #cdnpoli #TaxJustice

—

CUPE

National (@cupenat) June 22, 2015

Photo: Diada castellera de Sant Fèlix 2014 by calafellvalo is licensed under CC BY-NC-ND 2.