Simon Ouellette | CUPE Staff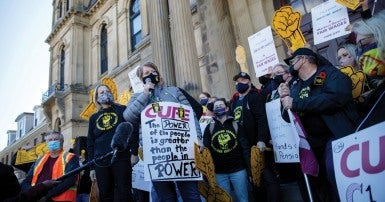 More than 22,000 CUPE members were involved in New Brunswick's biggest legal general strike in November 2021. While the entire province was affected, it was impossible to ignore the central role played by women in that strike.
If you did a quick tour on the picket lines or in any regional strike headquarters, you would have seen just how many women were involved at all the stages of this victorious labour action.
This comes as no surprise, as women constitute two thirds of New Brunswick's public sector workforce. This reality is reflected in CUPE's leadership, at the bargaining table in New Brunswick, and more so in sectors like health, social development, and education, where the ratio of women to men is predominant.
According to CUPE's most recent data, over 64 per cent of members self-identify as women. However, if you want to understand what gives CUPE its edge and what sets us apart from many other female-dominated organizations, you must follow the thread of working-class feminism.
Educate and agitate
To onlookers, a province-wide strike might seem to be a spontaneous event, or something planned a few months ahead. The truth is quite different. In New Brunswick's case, it took more than three and a half years of hard work and planning.
Back in March 2018, CUPE NB organized a mass membership conference titled Bargaining Forward – Breaking the Mandate. The conference, which was followed by a provincial tour, articulated a clear membership demand to focus on wages, wages, and wages.
More than a decade of cuts and below-inflation wage mandates had set workers back. Statistics Canada data demonstrated New Brunswick had the lowest paid public sector workers in the whole country. And this was disproportionately hurting women.
CUPE 908 President Ellie Michel said her members wanted a decent wage increase, as the government's meager 5 per cent offer wouldn't even be enough to buy a quart of milk and a loaf of bread for a week.
Organized labour needed to focus on real wage improvements that go above inflation. This required coordinated mass action, up to a provincial strike if necessary.
"We shouldn't have to make decisions like, 'Do I buy my medication? Do I pay the rent? Do I buy groceries? Do I pay the power bill?'" said CUPE 908 President Ellie Michel. "We as New Brunswickers, we're working every single day, we should not have to make those decisions."
The next years would prove invaluable in building the capacity of the members and the leadership to fight. Despite provincial elections and a global pandemic, CUPE has been able to keep the upper hand in communicating with members and the general public. They maintained focus on their main message, that the cost of living keeps rising while wages remain stagnant. CUPE's leadership on this issue made them the champion of New Brunswick's overburdened and understaffed workers, a majority of them essential workers, and predominantly women. Over the course of the campaign, this would gradually win over the public's support.
The blueprint of the struggle to come was laid, and it had all the characteristics of working-class feminism which focused on grassroots collective action.
Organizing through women's eyes
Women thinkers played a big role in shaping the 2021 historical strike.
Over the years, CUPE NB President Stephen Drost had relied on the teachings and battle-tested methods of Jane McAlevey, a well-known American labour organizer, campaign strategist and author.
On top of championing coordinated bargaining and mass actions, McAlevey insists on frequent communication and the importance of encouraging maximum transparency in the bargaining process, creating avenues for increased member engagement.
This is a key lever for union education and for rebuilding real worker participation in radical struggles. In this way, the union builds awareness among rank-and-file members who come to truly own their movement. And indeed, CUPE NB's centralized bargaining committee knew how to keep members and the general public mobilized, thanks to its continuous communications which demystified, day after day, discussions with the government.
In December 2020, Premier Blaine Higgs decided to impose a 'four-year wage mandate' on all public sector workers, i.e. a wage freeze for a year, followed by three years of 1 per cent increases. This was the third consecutive wage restraint mandate on those who had been already waiting close to four years for new contracts.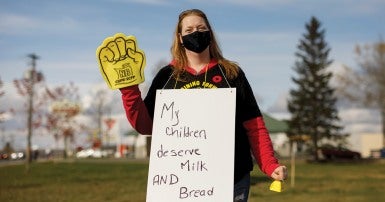 CUPE members were livid. They felt insulted and responded with strong opposition to the Premier's demands. He couldn't keep imposing zeroes for our heroes while the pandemic raged on. Recruitment and retention issues, a lack of resources in public services, and the government ignoring the real needs of workers had only worsened during the pandemic.
This anger was channelled in constructive action and, as Jane McAlevey had suggested, coordinated bargaining was the solution.
Over the following months, provincial CUPE leaders attended an online 'strike school' led by McAlevey and the Rosa Luxemburg Foundation, rooted in the workers' and women's movements and centred on public awareness.
This cemented the will of the union's leadership to conduct centralized bargaining to settle a wage mandate for all CUPE locals in the summer of 2021.
"CUPE has done all it can to settle this without disruption, but Premier Higgs is simply not hearing the call to treat front-line workers with fairness and dignity. He is pushing workers on strike, and that will happen very soon. Enough is enough," warned Stephen Drost, president of CUPE NB.
On the picket lines
When 10 provincial CUPE locals representing front-line workers from all sectors declared the strike on October 29, 2021, Conservative Premier Blaine Higgs was still confident workers would fold.
Higgs proceeded to try every trick in the book to undermine the strike. Despite hostile ads, relentless press conferences, locking out education workers and using emergency measures legislation to force health care workers back to work, the picket lines held.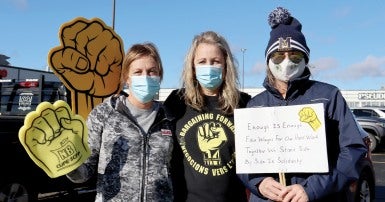 Rank-and-file members took part in countless interviews and used social media to bring attention to their struggle. Their high-visibility picketing strategy meant setting up massive picket lines along the busiest thoroughfares. And residents were all welcome to join the lines in support.
Almost every resident had at least one picketer in their family or in their extended circle of friends. Striking educational support staff were mothers, striking personal support workers were sisters and wives.
Sandy Harding, regional director of CUPE Maritimes, addressed the crowd in front of the New Brunswick legislature with her son.
"See that sign over there?" said Harding. "There's my little Jack and he says, 'Mr. Higgs, settle this so my mom can come home.' Everything that students have is because of CUPE."
Public support for strikers remained high – beyond 80 per cent. Everyone could see these "front-line heroes" that the government disliked so much. Everyone could hear their demands for fair wages.
Sixteen pandemic strike days later, a tentative deal was reached. On November 13, 2021, 10 out of 11 CUPE locals ratified an agreement and were able to claim victory, as they won wage adjustments which go above the cost of living – 15 per cent and 17 per cent for five-year contracts with retroactivity, as well as full pay for casual workers. Recently, the last CUPE local signed its collective agreement.
The fight is not over, but New Brunswick workers already learned a crucial union lesson: through mass action and solidarity, we have the power to throw austerity mandates to the dustbins of history.
---