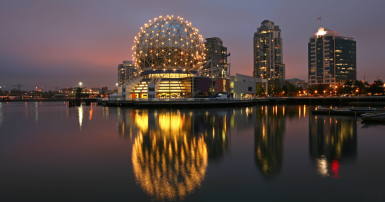 Workers at Vancouver's iconic Science World have decided to join B.C.'s largest union, CUPE. The 150 workers will be part of CUPE 1004, a multi-unit local that represents a diversity of community, municipal and professional workers across the region.
"We are proud to welcome workers at Science World to CUPE 1004," said CUPE 1004 president Scott McIntosh. "We look forward to building a collaborative working relationship with the leadership at Science World and working with them to address workers' issues that will improve staff and visitor's experiences at Science World."
McIntosh notes that some of the key issues their newest members hope to address through bargaining are fair wages, in line with industry standards, that take into account their skills, knowledge, and qualifications as well as building a more inclusive workplace with transparent policies.
Workers at Science World provide both front line customer service and work behind the scenes to provide a positive guest experience for visitors. This includes providing administrative services, building maintenance, food and event services, as well as sales, development and marketing functions. Workers also maintain and expand exhibits, and design and implement community engagement programs.
"CUPE 1004 members at Science World love bringing science knowledge and education to the community, but equally they need this work to be sustainable for workers and their families," said McIntosh.  
Under B.C.'s single-step certification law the workers were eligible for automatic certification after more than 55% of all eligible employees signed a union card. The newly unionized workers will form a Science World unit within the CUPE 1004 structure, and with local and national support from CUPE, will work collectively to set bargaining priorities and negotiate their first collective agreement.
CUPE 1004 represents more than 5,000 workers including outside workers for the City of Vancouver and Vancouver Parks Board employees, as well as employees of the Portland Hotel Society, Pacific National Exhibition, and several community non-governmental organizations. CUPE is Canada's largest union with more than 100,000 members in B.C., and 715,000 members nationwide.