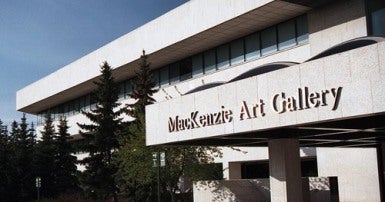 REGINA: Workers at the MacKenzie Art Gallery, members of Canadian Union of Public Employees (CUPE) Local 5791, have voted 100 per cent in favour of a strike mandate.
"The employer brought forward a large regressive proposal package to the table, which is lowering staff morale and causing stress for the members," said Jamie Mellor, president of Local 5791.
"Historically, CUPE Local 5791 has been very reasonable at the bargaining table and has been considerate of the MacKenzie's financial challenges. We continue to be reasonable in this round, but the employer's approach is making progress difficult," added Mellor.  "It is disappointing to see this behaviour after so many years of amicable labour relations and negotiations."
The employer has hired an outside consultant and has proposed many concessions to the collective agreement.  These concessions include eliminating severance pay while at the same time issuing lay-off notices to two employees and suggesting that there may be more lay-offs.  Other proposals include eliminating employees' ability to manage their work within flexible hours that meet their personal needs as well as the gallery's needs. In addition, the MacKenzie Art Gallery is attempting to remove five full-time positions with supervisory duties from the bargaining unit and is seeking to reduce vacation entitlements for employees hired after April 1, 2016.
"Employees of the MacKenzie Art Gallery have always worked as a dedicated team, producing high quality arts programming for the public.  This work often requires employees to be flexible and generous with their time in order to meet deadlines and to address unanticipated events," said Marie Olinik, a CUPE Local 5791 MacKenzie Art Gallery bargaining unit member.  "Hours of work has been a particularly contentious issue at this round of bargaining.  It's our view that the employer's proposals would actually harm gallery operations and increase costs."
"We will continue to attempt to reach a negotiated agreement, but the management at the Mackenzie Art Gallery needs to know that our members have strong concerns with the concessions it is trying to push," said Mellor.
Members of CUPE Local 5791 have been without a contract since March 31, 2015.