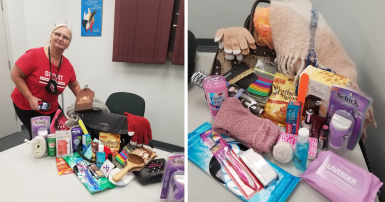 When women come together, much can be accomplished. This is exactly what happened when the CUPE 30 Women's Committee put their planning into action.
The local's Women's Committee recently put out a call for purses and feminine products to be collected and donated to a local women's shelter. The committee collected over 400 purses that were filled with the feminine products. The committee wishes to thank the Waste, Parks and Roads, Fleet, and Community Services Departments for their donations. It all starts with one act of kindness to make the world a better place.
CUPE 30 represents over 4,000 workers at the City of Edmonton, City of Fort Saskatchewan, EPCOR, Town of Thorsby, and the Edmonton Economic Development Corporation.