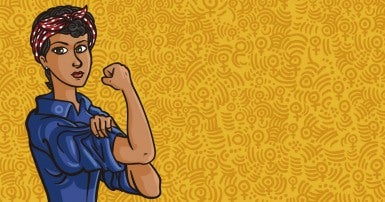 CUPE's work for gender justice has a clear goal: not one step back. We push governments at all levels to apply a gender lens to budgets and update policies to recognize the impact of intersecting forms of discrimination. A review of the latest statistics about women and work reminds us that our collective work for equity and human rights is far from over. All statistics draw on the latest available information – dates vary by source and study.
In 2015, women working in full-time, full-year jobs earned an average of $55,000. That's 25 per cent less than the average earnings for men working full time, year round. The pay gap for women with university degrees is even larger (about 30 per cent) while it is smaller (about 20 per cent) for younger workers.
Women who were members of a union were paid an average of $7.11, or 32 per cent more an hour, in 2017 than non-unionized women. That works out to $13,865 more per year for a full-time worker. The average wage for unionized women is still about five per cent lower than unionized men, but that's far smaller than the wage gap that non-unionized women face.
The unionization rate for women has been higher than men since 2006, when the unionization rate for men began to gradually decline. In 2017, 32.2 per cent of working women were covered by a union, but just 14 per cent of young women workers under 25 were unionized.
Unionization rates are much higher in the public sector, where 76.7 per cent of working women are unionized. Only 12.8 per cent of women in the private sector are unionized.
On average, racialized women were paid 13 per cent less than white women, equivalent to $5,000 less per year in 2015. Statistics Canada reports that the pay gap for Black women, as well as women of Latin American, Arab, South Asian and Korean descent, is considerably higher than the overall average for racialized women.
Racialized women are much more likely than white women to be low-income earners. Racialized women made up 21 per cent of low-income earners in 2015, while white women made up just 13.1 per cent of this group. Low income rates were considerably higher for Black women (25 per cent), women of Arab descent (37 per cent) and women of West Asian descent (35 per cent).
Indigenous women earned an average of $30,854 in 2015. That's 18 per cent less than the average non-Indigenous woman, and 46 per cent less than the average white man.
Accessible, quality child care boost women's workforce participation. But in 2014, there were 540,000 regulated spaces in child care centres for children aged zero to five – enough to provide care to only 24 per cent of all the Canadian children in that age group.
In 2012, the average annual income for women 65 or older was $27,000. That's just 69 per cent of the average income of men in the same age group. Women depend more on Canada Pension Plan income as a share of their total retirement income, but also receive less than men on average.
Women with disabilities earn less than women without disabilities and men with or without disabilities. Working-age women with disabilities who worked mainly full time in 2010 earned an average of $37,070. That's $2,250 less than women without disabilities. Men with disabilities in the same category earned an average of $45,080.