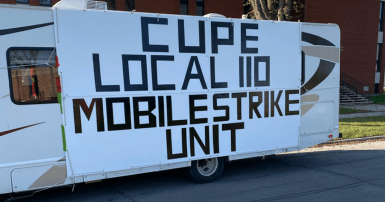 School custodians, trades, painters, and maintenance workers are calling on the Winnipeg School Division (WSD) Board of Trustees to settle contract negotiations at their regular board meeting on Monday, October 4 or face potential job action.

"The Winnipeg School Division has failed to negotiate a new contract for the frontline staff who have been responsible for keeping our schools clean and running, especially throughout the pandemic," says Rick Peschel, President of CUPE 110.  "We hoped the Board of Trustees would have settled this contract before the school year started, but they have shown very little leadership despite frontline staff continuing to work incredibly hard throughout the pandemic." 

The Winnipeg School Division forced school bus drivers to strike in 2020 during the school year, as well as pushing teachers to the edge this summer, now they are pushing custodians over too, explains CUPE 110.

CUPE 110 is asking for the same four-year deal that teachers in the division received: 1.6 percent, 1.4 percent, 0.5 percent, and cost of living adjustment. 

Many other school divisions in Manitoba have already settled this agreement with support staff represented by CUPE.

"The WSD lost the school bus driver arbitration, they took the teachers arbitration settlement, and somehow they think the results here are going to be different for hard-working support staff?" said Peschel.  "We have been very patient with this Board to date, and we ask that the Board settle our contract on Monday so we can focus on keeping our schools clean, safe, and running."

CUPE 110 has a strike mandate from its membership and is in the process of preparing for job action.