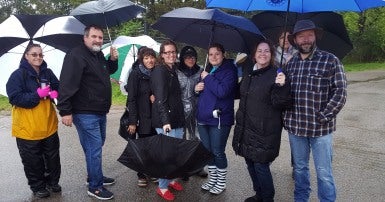 CUPE National President Mark Hancock joined striking Toronto Zoo employees on the picket line today, braving near record-setting rainfalls to send a message that members of CUPE 1600 have support from across the country.
"We've seen what two-tier agreements and not having good contract language do to workers, over and over and what you're doing here is the hard, right thing to do and you have the support of every CUPE member," Hancock told picketers.
Workers went on strike May 11, after negotiators for the Toronto Zoo refused to back away from job security concession demands.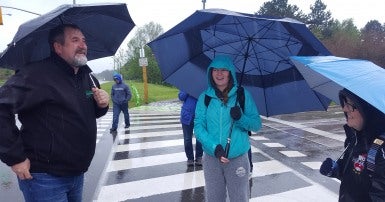 Hancock also presented CUPE 1600 President with a cheque for $5,000 from CUPE National, to assist the Local and its members during the strike.
"We'll stand with you for as long as it takes," he said.
CUPE 1600 represents more than 400 zookeepers, horticulturalists, administration and public relations staff, concession and ride operators at Canada's largest zoo.