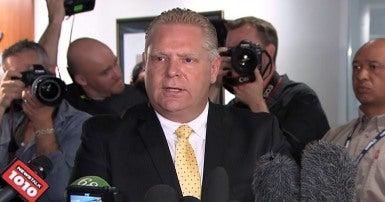 Sarah Jordison | CUPE Communications
Despite 60 per cent of Ontarians voting against Doug Ford and the Conservatives, the party now holds a massive majority government with 76 seats compared to Andrea Horwath and the NDP with 40 seats, the Liberals with seven and the Green Party with its first seat in the province.
Ford ran on a campaign of cuts – corporate taxes, personal taxes, gas taxes, carbon taxes – while providing no plan on how his government will address the loss of more than $10 billion in annual revenue. Much is up in the air as the new right-wing government takes shape. Ford has promised he will make people's lives easier. Those who have followed his career closely anticipate an agenda of mass privatization, contracting out and cuts to public services.
For CUPE members across Ontario who provide those services, life could become quite difficult. For all the people that rely on public services, life will be anything but easier.
While CUPE's leadership and staff begin to prepare for any necessary fight backs, it's important to remember that Doug Ford sees himself as a populist.
Though Ford holds a majority of seats in the legislature, he is much more susceptible to public opinion than many Premiers who have come before him. He knows that Kathleen Wynne's downfall began when she ignored the public outcry against selling off the province's hydro system. He's seen how easily the Ontario Liberals went from majority government to losing party status.
What happens in Ontario over the next four years will depend in large part on how the public responds once Doug Ford begins to implement his agenda. CUPE members cannot afford to stay silent when it comes to protecting public services. Building public support will be critical for success.