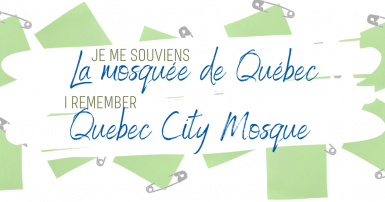 On January 29, 2017, an Islamophobic white supremacist shot dead six Muslim men as they prayed at a Quebec City mosque. Many more were injured. This terrorist attack affected and continues to afflict many families, friends, neighbours and communities across Canada, leaving us all with a sense of horror and overwhelming sadness.
In January 2020, Muslim communities initiated the Green Square Campaign of solidarity and hope. This year, all Canadians are being encouraged to wear a patch of green fabric from January 25 to January 29 to show their solidarity for everyone who continues to suffer the consequences of this hateful violence.
On January 28, 2021, the day before the fourth anniversary of this Islamophobic attack, the Liberal government declared January 29 will be recognized every year as a national day of remembrance and a day to promote action against Islamophobia. On this day, it is important to take the time to reflect on why the massacre took place. As difficult as this may be, we must recognize the reality that Canada is not immune to hate, division and racism. The number of police-recorded hate crimes, according to Statistics Canada, remains high compared to recent years.
At our 2019 National Convention, CUPE members committed our union to fight the rising tide of racism and hatred we see in Canada and across the world by unanimously passing a resolution to create an anti-racism strategy, including anti-Black racism and Islamophobia, and this work is well under-way.
CUPE will continue to empower members and allies to speak out against Islamophobia and all forms of racism and discrimination.
What can you do:
Participate in the Green Square Campaign to stand in solidarity with the families that are left to deal with the tragedy of this Islamophobic attack.
Create a green virtual background for all virtual meetings from January 25 to January 29.
Learn about the work of the National Council of Canadian Muslims and the International Civil Liberties Monitoring Group to combat racism and human rights violations in Canada.
Participate in an event commemorating January 29th or organize one in your community.
Sign up to the Canadian Labour Congress' list to receive updates on their work to fight Islamophobia in the workplace. 
Register for a 

CUPE

 workshop on racial justice, Indigenous issues and human rights.
On January 29, join with others in virtual vigils across the country and events to commemorate the victims of the Quebec Mosque attack and to let their friends and family members know that they are not alone. And wear a green square in hope.