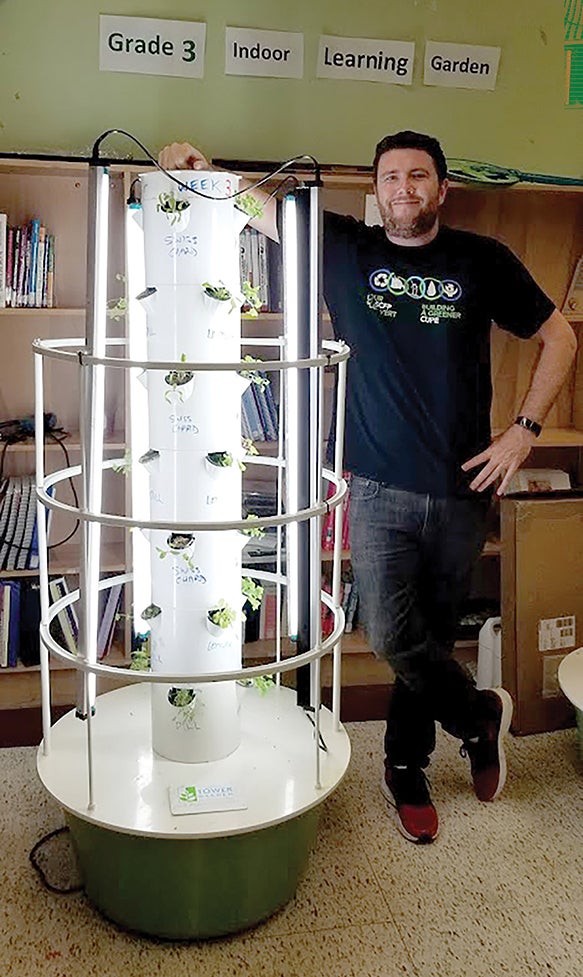 Rosane Doré Lefebvre | CUPE Communications
Since 2013, Stefan Sommer of CUPE 4400 has been involved in an initiative that increases efforts towards sustainability and energy use at the Toronto District School Board (TDSB) and brings agriculture closer to students: the Urban Farming Innova­tion Project.
All year round, Stefan, assisted by students, gardens indoor on tall hydroponic garden towers in some TDSB schools. Each of these towers can grow up to 44 plants at a time. School cafeterias are provided with fresh products on site, and crops are produced in cycles to meet demand. From seedling to transplantation, from harvesting to production and consumption, the students fully enjoy the small-scale farming.
"This has changed the way they look at vegetables. The nutritional value of the vegetables we grow is far superior to food you find in grocery stores. The taste and quality are better. When I go in schools now, I have kids begging for kale chips," says Stefan Sommer.
The students gain key knowledge through the project. In addition to understanding firsthand the real impacts of eating local products, and acquiring hydroponic gardening skills, the learning experience is harmonized with the Ontario curriculum. "We tailor the experience we offer with the schools, whether it's part of the academic program or a lunchtime activity. For example, in one school, the project was implemented as part of the Science class, where we focus on innova­tion and how to improve the project. In another school, it's part of an Economy class, to study the value of the yields," he explains.
Special kids with special needs
Stefan is certainly proud of working to implement sustainable practices in his working environment, but his proudest achievement is by far the positive impact this has on kids. Most of the students he works with have mild intellectual or physical disabilities or are kids with Autism Spectrum Disorder.
A community to thank
With the help and support of teachers, the TDSB and CUPE 4400, the Urban farming innovation project is growing. In January 2020, six schools will be participating in the initiative. Other schools are also starting their own gardening projects.
In light of this success, Stefan is however staying humble. "This is a community effort. The school board was very cooperative and the Presi­dent of CUPE 4400, John Weatherup, really believed in this project. Fred Hahn, president of CUPE Ontario, also provided funding for the project. I could not have achieved as much without them."