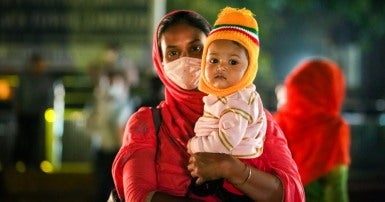 April 24 marks the grim eighth anniversary of one of the world's worst industrial disasters. The collapse of the Rana Plaza building killed 1,132 garment workers and injured more than 2,500 in Dhaka, Bangladesh. In solidarity with the labour movement in Bangladesh, CUPE is joining Canadian unions and civil society organizations to demand better working conditions and respect for garment workers' rights.
Bangladesh is the world's second-largest clothing exporter. During the COVID-19 crisis, hundreds of factories closed as international and Canadian brands and retailers cancelled orders and refused to pay for orders already in production. Factories fired over a million workers and many employers refused to pay severance pay that workers had legally earned. Workers had no savings from subsistence-level wages and no access to social programs to support them. The forecast remains dire for garment sector workers, as global demand for clothing remains low.
For years, workers in Bangladesh have been courageously organizing and fighting for their rights. They need the solidarity and support of people in countries like Canada, which is home to companies that produce clothing in Bangladesh.
CUPE has signed a joint statement calling on Canadian brands and retailers to respect workers' rights, and ensure suppliers pay workers living wages and social benefits.