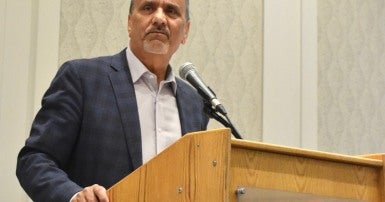 Addressing the CUPE Western Municipal Conference, BC Minister of Labour Harry Bains highlighted the stark differences between the western provinces in their approach to affordability and employment rights.
"Benefits and rights earned through hard work can be taken away with the stroke of a pen, and where this has occurred it is motivated by ideologically-driven governments who are seeking to make money for their friends and supporters," said Bains.
Bains went on to talk about the work of the BC government to make life more affordable, improve the services people rely on, and create a strong and sustainable economy that works for all British Columbians. He said that fair labour and employment laws are key to achieving those goals because they ensure the benefits of the economy are distributed throughout our communities, and not just to those at the top.
"It matters who the government is," said Bains as he listed the many accomplishments of the BC NDP government that contrast with the ideological direction of other western provincial governments. The elimination of child labour, the creation of higher safety standards, increases to the minimum wage, safeguards against contract flipping, and provisions to ensure that corporations are held accountable for negligent acts that result in worker injuries were all among the key accomplishments highlighted by Bains.
"Workers are the backbone of our economy, and they need protections," said Bains. "Workers should come home safe at the end of their shift—and anything less is unacceptable."