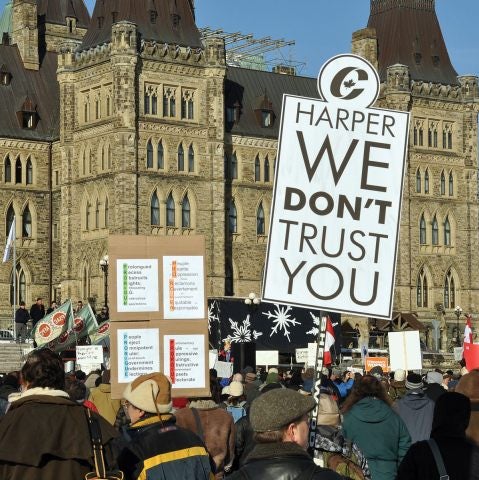 Riccardo Filippone | CUPE Communications 
It's tempting for progressives to throw up their hands in the course of a majority Conservative government. You could make the argument that Stephen Harper has enough votes to pass whatever legislation he wants and there's no point in doing anything about it until we get a chance to give him the boot. That might be true, but only if you measure success by the outcome of votes.
The most recent battle over Stephen Harper's unfair elections act is a good case in point. It was a perfectly terrible piece of legislation, progressives fought it tooth and nail, and it passed anyway. So were the many months of opposition a huge waste of time?
Hardly.
Let's look at how the drama played out:
The Conservatives introduced the (un) fair elections act and repeatedly scoffed at making any changes to it.
In response, a broad range of allies got together to fight back. Among them were the NDP, Council of Canadians, Canadian Federation of Students (CFS), Leadnow, trade unions, human rights and civil liberties groups, anti-poverty and social justice groups and more. The petitions, online campaigns, newspaper articles, media interviews and rallies raged on for months.
The result? Harper gave in. 
The government was determined to pass its terrible legislation exactly as originally introduced, but because of public pressure (read: our organizing efforts), the government backed down on some of the worst elements of the bill.
On its own that can be considered a decent silver lining. But there's more. The organizing efforts brought together and strengthened the ties between many groups and activists. More importantly, it allowed progressive organizations to reach and engage millions of Canadians through social media, email, local newspapers, radio, television appearances, etc. These are the relationships that will be critical when it's really time to show Harper the door in 2015.
And there's the added bonus of reminding a majority government that just because they can do something, it doesn't mean they'll get away with it.
So, did we lose the final vote? Yes.
Was the fight worth it? You better believe it.