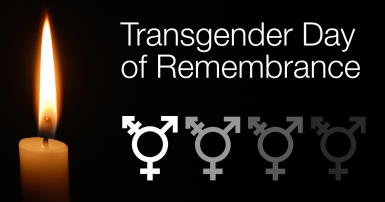 November 20 is a day to remember those killed because of the hatred or fear of transgender people. It is also a time to consider the harassment and discrimination trans people face, and what we must do to eliminate it.
A 2015 study found that every year in Canada, 1 in 9 transgender people attempts suicide. Transgender people face intense and often overlapping challenges, including: high levels of transphobic violence, threats, discrimination and misunderstanding, police harassment and discrimination in the health care and justice systems.
We at CUPE recognize the gendered and racial differences that leads to disproportionate impacts of violence even within the transgender community. Transwomen experience violence not only because they are transgender but also because they are women. Indigenous two-spirit persons and racialized transwomen face even further discrimination and violence as a result of their intersecting and compounding identities tied to centuries of colonialism and enslavement.
Trans rights are human rights
Trans people still struggle for the same rights most of us take for granted, including:
A safe place to live and work
Access to safe public washrooms and change rooms
Identity documents that match their gender
To be called by their chosen name, and
To express their sense of self freely in what they wear and how they interact with others.
Union resources for trans rights
For more than a decade, CUPE has been a leader among Canadian unions in championing trans rights. CUPE develops bargaining resources, negotiates and enforces contract language protecting trans rights, educates members, raises public awareness about transphobia, supports research, and lobbies for legislative change and improved access to health care. See the links below for resources and more.
Time for action!
On May 17, 2016, the federal government introduced Bill C-16 to include "gender identity" and "gender expression" as prohibited grounds of discrimination in the Canadian Human Rights Act and the Criminal Code. The bill passed the Standing Committee on Justice and Human Rights on November 3 and has been sent back to the House for its third reading.
We now have the opportunity to act in solidarity with members of the transgender community.
Here are some concrete actions that you can take at an individual, community and local level:
Let your Member of Parliament know that you expect them to vote in favour of Bill C-16
Educate yourself and your members about trans issues. Invite a trans activist to speak to your local. Ask for union education courses and equality presentations in your region.
Check out the interviews with CUPE members Deidra Roberts and Martine Stonehouse in the Queer Story Archives at onmyplanet.ca
Bargain language to specify that your "no discrimination" clause covers gender identity and gender expression. Negotiate paid leave and other benefits for transitioning members.
Check out CUPE's Bargaining LGBTTI Rights: A checklist for collective agreement language, part of our Bargaining equality resource collection. 
Support efforts to establish or improve public funding of gender reassignment surgery and other health care services for trans people.
Participate in November 20 Transgender Day of Remembrance events in your community.
Share information about your activities, including photographs, to promote solidarity and inspire others to take up the fight. Send information to equality@cupe.ca
On November 20, and on every day, let us continue to work towards building workplaces, communities and a world that is free of all forms of violence and discrimination.