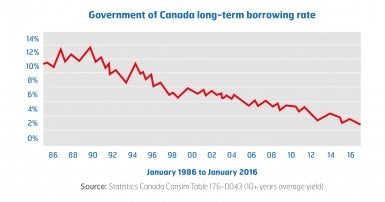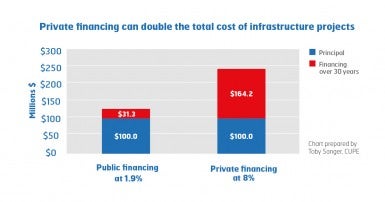 Long-term borrowing rates for governments have never been lower than they are right now. This year the Canadian government has consistently been able to borrow at rates of below two per cent for terms of up to 30 years, and below one per cent for terms of less than eight years.
Meanwhile private financiers expect much higher returns for investing in infrastructure and public-private partnerships (P3s): seven to nine per cent according to Caisse de dépôt et placement du Québec CEO Michael Sabia. The average cost of private finance for P3 projects in British Columbia has been 7.5 per cent.
In fact, a financing cost of eight per cent over 30 years means five times the financing costs, compared to the current federal government 30-year borrowing rate of 1.9 per cent. That means double the total cost for a project. Private financing is not a new pot of "free" money – it's just a far more expensive funding source, one Canadians will have to pay for.