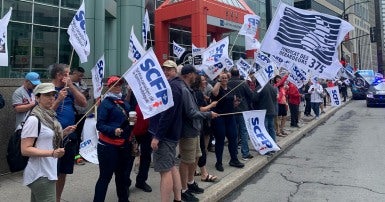 CUPE and the Société des casinos du Québec reached a tentative agreement at the bargaining table on Friday afternoon.
The members will vote by secret ballot at a general meeting to be held in the coming weeks at an undetermined date. Until then, the parties will not comment on the details of the agreement.
"The union and bargaining committees are satisfied with this agreement and are confident that it will also be satisfactory to the members," says Jean-Pierre Proulx, CUPE representative.
The 545 members contract expired on March 31, 2020. They have been on strike since May 21, 2022.