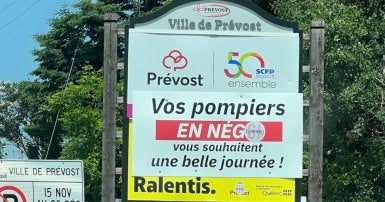 The situation is continuing to deteriorate in the Prévost fire department where twenty or so firefighters are waged in a standoff with municipally elected officials over the renewal of their collective agreement.  
Following a visit to town council early in the year to urge municipal officials to accept a mediation process to improve the work atmosphere at the station, a request that was flatly turned down by the Mayor, the members began a poster campaign last Friday to inform the public in Prévost of their working relations.
The employees' collective agreement expired on December 31, 2021. No significant progress has been made in spite of the ten or so meetings between the parties. Moreover, the dismissal of one firefighter, demotions, letters of reprimand and various disciplinary measures taken against union officers prior to the 2022 Christmas season touched off a firestorm.
The union maintains nonetheless that the atmosphere at the bargaining table has always been respectful.
"Taxpayers must be aware of the town's unwillingness to resolve our collective agreement. At the same time, we want to reassure them that, regardless of the outcome in this case, their protection is our priority and at no time will it be compromised," said Guillaume Aspirault-Massé, President of CUPE 7161.
It is also worth noting that at a general meeting last January 10, the firefighters unanimously adopted a mandate to exert pressure tactics, which they are now engaged in.