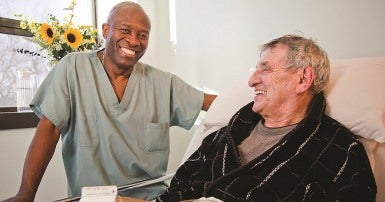 ​Aline Patcheva | CUPE Communications
CUPE Quebec's provincial council on social affairs, Conseil provincial des affaires sociales (CPAS), is launching a new phase of its advertising campaign to highlight the work of care-facilitators. This fall a second series of short videos will invite people to talk to care-facilitators about the "nitty-gritty" of their daily work in the Quebec public health and social services system.
CPAS represents 20,000 members in Quebec, with more than 50 job classifications. Beyond their current union activities, the members of the council have made it their mission to celebrate the under recognized jobs within the health and social services network. And so the term "care-facilitator" ("périsoignant" in French) was created in 2012. Care-facilitators are the various health care institution employees, other than medical personnel, who assume a multitude of essential tasks related to care and services.
"We want to publicize the workers who are not doctors and nurses. In a hospital, there are also orderlies, office staff, maintenance workers, kitchen staff, etc. We need to recognize these occupations, which are often forgotten, but without which the system simply wouldn't function," explains Pierre Soucy, president of CPAS.
At the same time, CPAS is also raising its voice against governmental reforms, privatization and outsourcing of public services, which are seriously affecting the work of care-facilitators.
"Throughout the public network, our care-facilitators perform essential tasks for Quebecers, not for private interests," notes emergency physician Dr. Paul Lévesque in the videos.
The videos promote a reliable public system that is accessible to all, and urges the public to recognize and support their dedi­cated workers. The videos denounce the reduction of resources despite an increase in needs, as well as the privatization of services at greater expense to the taxpayers. 
CPAS's new advertising campaign called [Talk to Your Care-Facilitators]. For further details, see www.carefacilitators.com.