Despite the rain, more than two hundred community members and labour leaders gathered in front of the Leamington, Ontario, library to celebrate the courage and strength of the Essex County library workers who have now been on strike for 68 days.
"There may be some people out there that thought library workers would be easy to push around so that they could force you to take concessions that would hurt your members," said Mark Hancock, CUPE National President. "Your strength in standing up for what's right is a testament to your members. You can see by the crowd here today that you are not alone. Your community stands strongly behind you."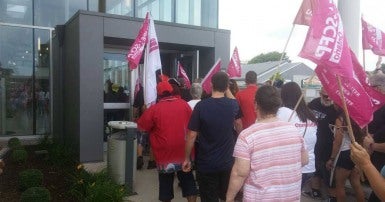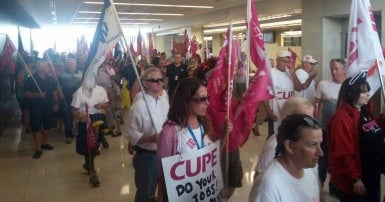 The two-month long strike is leaving many in the community frustrated because they want their libraries reopened. A new poll conducted by Environics Research Group shows that more than two-thirds of the people in Essex County believe the mayors that sit on county council are doing a poor job in handling the dispute. The poll also showed they will likely punish the mayors in the next election if they do not resolve the strike soon.
"It is never wrong to stand up for what's right and we are all here today to celebrate your strength in the face of adversity. You are real library warriors," said Fred Hahn, president of CUPE Ontario. "We are calling on the political leaders across the county to do their job, represent the wishes of their constituents and resolve this strike so our members can get back to doing the job they love, serving the people of Essex County."
"I think there are still employers out there that underestimate the strength of their employees when most of them are women," said Candace Rennick, secretary-treasurer of CUPE Ontario. "It seems we have to continually prove them wrong. The fact that you have stood so strongly together to protect a third of your workers won't just benefit your members – it helps send a message to all employers that female-dominated workplaces deserve the same respect as those dominated by men."
"I can't tell you how much it means to have the public's support," said Lori Wightman, spokesperson for the striking library workers. "It feels like we've been targeted because they thought no one would notice. All of you being here today proves what I've always believed - one of the great things about living in Essex County is that we care about each other and support each other when times are hard."
The library workers hope that community pressure will finally get the employer back to the table to work out a fair deal and reopen the libraries.