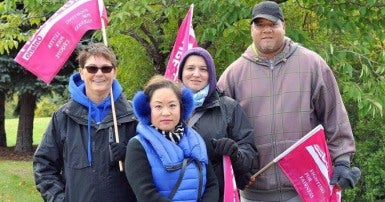 One month has passed since striking workers from Local 4914 of the Canadian Union of Public Employees (CUPE 4914) and management from Region of Peel Children's Aid Society (Peel CAS) have met at the bargaining table to work to resolve a strike that is now entering its 11th week.
With the holidays approaching the union is concerned that children are not receiving the care they require at the time of year when they need it most. "The holiday season is often increasingly difficult for an already vulnerable population," said Sonia Yung, President of CUPE 4914 which represents 435 front-line, administrative and support staff of Peel CAS, "there is an increased need for the care that our members provide. The children are not getting this level of care from replacement workers."
Contrary to reports from Peel CAS that the union has prolonged the strike by refusing to work with a provincially-appointed mediator, CUPE 4914 has made repeated requests to return to the bargaining table with or without a mediator. The union only asked for a new mediator when the one that was initially appointed no longer believed that a meeting between the two parties would be of use.
In further attempts to end the strike, CUPE 4914 offered to take outstanding issues to binding arbitration and asked the provincial government to help break the deadlock. "This strike isn't about money, it is about respecting and acknowledging the work that we do, and ensuring that we are put in a position to give the best care possible to the children of Peel," Yung said, referring to the workload and job evaluation issues that are at the center of the strike. "We have done everything we can to end this strike as quickly as possible without abandoning the issues that protect the children of Peel."
"What we are asking for is quite reasonable," said Yung. "It is in line with other comparably funded agencies, and it addresses recommendations made to ensure that children do not fall through the cracks. With the holidays coming we need to get back to the table and Peel CAS needs to demonstrate that they care about these kids."
Currently, a new provincially appointed mediator has been assigned to the strike, but no new bargaining dates have been set.