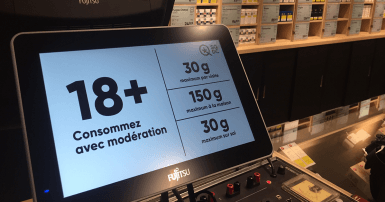 The union that represents more than 300 Société québécoise du cannabis (SQDC) employees in 24 outlets has a strike mandate in hand.
At a special general meeting last February 20, 91 per cent of members ratified a unanimous proposal from the union council and decided in favour of a mandate calling for pressure tactics up to and including an unlimited general strike, when the time is deemed right.
The union's main demands involve scheduling, wages, team leader positions and transfers between outlets.
"All we're asking for are decent working conditions. At the present time, we don't feel we're getting any respect from our employer, which is reflected in the mandates given to the employer's bargaining committee. In short, we won't be a source of cheap labour for Crown corporations," said David Clément, president of CUPE 5454.
Recognition of the union is also a major issue.
"The employer is still denying unionized employees of new outlets the right to negotiate and maintains that these employees don't deserve the same working conditions as their colleagues in other stores. It's unacceptable" declared CUPE union representative Daniel Morin.
At the employer's request, a mediator was appointed by the Ministry of Labour after only eight bargaining sessions.
"We'll give mediation a chance to show we're acting in good faith, despite the close-mindedness and scornful comments by our counterparts at the bargaining table. However, we are dead set against the employer's attempt to establish wage disparities between outlets. Our mandate is clear – we're negotiating just one collective agreement for our entire 24 outlets," added union president David Clément.