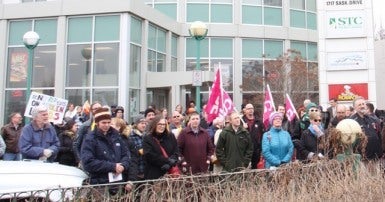 The closure of the Saskatchewan Transportation Company (STC) has left rural medical labs scrambling to figure out how to transport medical samples for testing to urban centres.
"Many rural labs in the province shipped medical samples to larger centres for testing via STC. It provided reliable, same day delivery over every corner of the province," said Sandra Seitz, president of the CUPE Health Care Council. "The government shut down STC without a plan in place for the many government services that depend on timely, affordable province-wide transportation and without assessing the additional cost to health regions."
Many CUPE medical technologists and technicians have reported challenges with ensuring that medical specimens arrive in a timely manner. Due to specimen integrity, some specimens need to arrive at the testing facility within 24 hours, and other specimens need to arrive frozen. There are also times where the doctors need the results within hours so they can make critical decisions about their patients' health care.
"As a medical lab technician, I can speak firsthand of having to call back patients to redo important tests because their tests did not reach the provincial lab in a timely manner," said Holley Hermann. "Patients deserve accurate results in a timely manner. The closure of STC has left a huge gap in our provincial infrastructure."
Laboratory technicians are now looking at a patchwork solution to transporting medical samples.
"Most days we use a private courier. Some days we ask families or co-workers to deliver the material on their own. And sometimes we have to send samples in a taxi cab," said Hermann. "This creates extra stress on our end as we scramble to get transportation in place, and it costs more for taxpayers. And it is definitely not fair for patients."
For decades STC has also been a reliable and stable means of transporting blood and other blood products from the Canadian Blood Services in Regina to almost all the rural hospitals in Saskatchewan. The closure of STC without a viable alternative has had a negative impact on the transportation of blood and other blood products to rural hospitals. Other government services depended on STC as well, as libraries used STC for inter-library loans, and many rural municipalities shipped water samples for testing via STC.
"The consequences of shutting down STC have far reaching implications for communities across this province. The challenges medical laboratories are facing now, along with the gap in provincial transportation options, show just how little thought the government put into the decision to close STC. This action has and will continue to have a negative impact on quality of care for our patients," said Seitz.