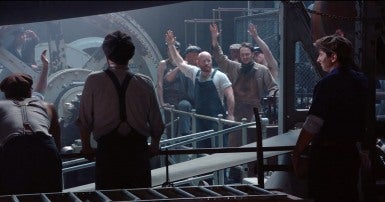 With much gratitude to the labour movement, Stand! a movie musical will have its Canada-wide release at select Cineplex theatres on Friday, November 29. The movie, already called the "next Norma Rae", is the result of a partnership between the labour movement in Canada and the United States, the Canadian Museum for Human Rights and the movie's producers. It is described as an immigrant Romeo & Juliet battle for love and better future during a time of social upheaval and union organizing.
The movie will be screened in these Canadian cities: Victoria, Vancouver, Mission, Calgary, Edmonton, Regina, Saskatoon, Winnipeg, Hamilton, Barrie, Vaughan, Ajax, London, Guelph, Windsor, Toronto, Ottawa, Montreal, Quebec City, Laval, Halifax and St. John's.
The movie will be subtitled in French while screened in theatres across Quebec.
In order to maximize the impact of the movie, attendance at the first three days of the release between Friday, November 29 and Sunday, December 1 is critical to being held over in theatres for a second or third week.
To buy tickets online, head to: https://www.cineplex.com/Movie/stand
For groups of 20 people or more, please call Cineplex directly by November 22 at 1-800-313-4461. Select OPTION 2 for group sales.
If you would like to print out a poster of the movie, please do so by clicking here.
Thank you in advance for attending and helping to promote the labour movement's cause through the movie.