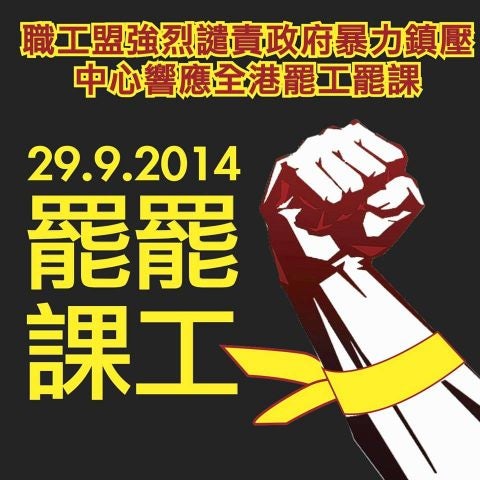 CUPE expresses our support for the protests initiated by students and supported by workers in Hong Kong.  We draw tremendous inspiration from activists who are mobilizing to demand a voice in their country.  We offer them our solidarity as they courageously stand up in the face of injustice and the violent suppression of their rights.
Activists in Hong Kong are condemning and opposing restrictive election processes being imposed in advance of elections in 2017. They are taking issue with the rigid rules on nominations which will undermine the process of holding democratic elections in the country.
Since the announcement of future elections in Hong Kong in 2008, the student movement has challenged the imposition of rules which favor the interest of the Chinese government and business elite. The protests are gaining momentum in response to the violent crackdown by the government over the past few days.
We support the call by the workers in Hong Kong for an end to police violence and repression. We support their call for the assurance that basic human rights of all protestors be recognized.  We condemn the use of arrests and violence as a tool to suppress the right of people in Hong Kong to engage in peaceful assembly and to demand a fair and democratic election system.
As larger mobilizations are planned for October 1st, we are aware that our government is planning to sign into effect the Canada-China Foreign Investment Promotion and Protection Agreement.  We stand firmly with the people in Hong Kong whose demands for democracy remind us of the urgent and ongoing need for international solidarity.